by Kazi Rabeya Ame and Munir Hossain
Shabana Begum, a young woman from Kurigram district located in the northern Bangladesh was married off when she was just 14 years old. Her husband was daily wager and used to work for others' farm land. Her husband was the only earning member in the family and the money he earned was insufficient to meet the needs of the family. Shabana became a mother within a year of her marriage. The poverty and hardships were part and parcel of Shabana's family. She was not able to raise her child properly; the baby was suffering from malnutrition, so was the mother. Because of poor living condition and financial crisis, there were always conflicts between the husband and wife. And lack of proper food and nutrition caused various diseases among the family members.
However, the extreme poverty did not stop Shabana to dream of a better future. Her family owned a tiny piece of land in front of their house. She always wanted to make the best use of the land, even if it was small.
Shabana got involved with REECALL 2021 project activities after seeing many other women of the community engaged in the project. She became a member of "Karigor CBO". Under the REECALL 2021 project, the partner GUK has developed 35 community-based organizations (CBOs). Karigor is one of those CBOs formed where Shabana lives. REECALL 2021 project is a continuation of Oxfam's innovative response to the needs of climate vulnerable communities, with emphasis on economic justice, women's empowerment, climate action, disaster risk reduction, active citizenship and knowledge management. To develop the community contingency system, the project is operating the food bank (saving initiative by the community members). Under the CBOs, there are several community groups to promote safe WASH practice, prevent violence against women, youth groups and disaster management groups. Shabana also enrolled herself as a member of Food Bank and Women WASH Platform (WWP).
In the year 2019, the executive committee of Karigor CBO proposed Shabana Begum to start eco-friendly agriculture practices in her land. This was the turning point of her life and Shabana took the right decision. Soon after she got the opportunity, she received training on eco-friendly and climate adaptive agriculture. The training opportunity was created and facilitated by the REECALL 2021 project. The project also provided her a "vermin compost house" for implementing eco-friendly agriculture project. She also received about 13 kind of seeds, Pheromone trap, net for vegetable land protection, cash for cultivation, irrigation, fencing and necessary agro-consultation. With all the support and motivation from REECALL, Shabana Begum started a new life – she started her own business – her eco-friendly and climate adaptive vegetables garden. Shabana Begum is now producing organic vegetables that have an increasing demand in the local markets.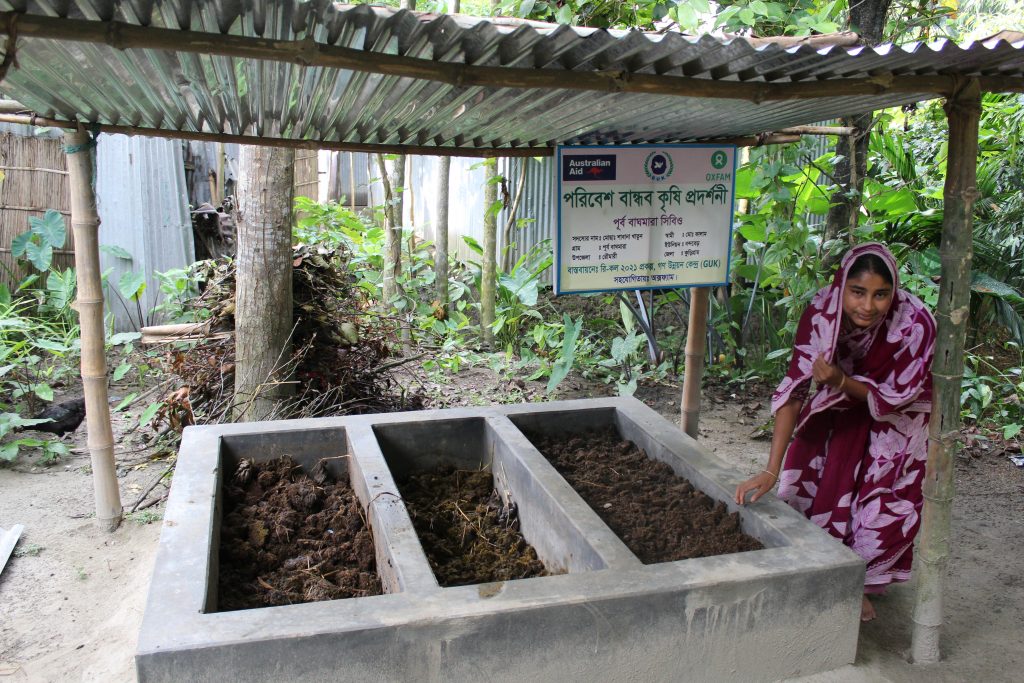 Today, Shabana is contributing to her family income. She feels happy and empowered that she is able to support in meeting the needs of her family. From her climate smart garden, she earns BDT 8000 (USD 100) every month. Today her family feels so happy and proud as they have been able to overcome the crisis, they faced few years ago. But it was not that easy for Shabana. When she started pursuing her dream of being self reliant, she had to face multiple challenges. Since she had a vermin compost fertilizer plant in her house, the other members of her community started opposing her. She faced lot of criticism as she used to process vermin by herself. Unfortunately, this was considered as a taboo and many people in her neighbourhood often denied to accept her in their houses when she wanted to visit them. Moreover, the vermin are not available all the times in that area which was an additional challenge for smooth operation of her 'very own' compost plant.
Eco-friendly climate adaptive agriculture has helped Shabana to follow her dream – a dream she had since the early days of her marriage, that is, to become self reliant. The vegetable garden has now become a source of happiness and prosperity of her family. With the earning from the vegetable garden she can add value to the income of her family. Her elder son Sabbir Hossain is a grade one student. Shabana is not worried about her daughter's nutrition and health anymore.
The story of Shabana's transformation is a great example for many women who struggle with poverty and hardships. Shabana is a source of inspiration for many, who have dreams because she has proven that with hard work and commitment, all dreams can come true. Women and men in her locality look up to Shabana and acknowledge that initiatives such as REECALL that support women with eco-friendly agriculture can help them create many such "Gardens of Happiness" in rural Bangladesh.
About Authors:
Kazi Rabeya Ame is currently working for Oxfam in Bangladesh as Rural Manager (RM). She manages OiBD's one of the largest projects titled Resilience through Economic Empowerment, Climate Adaptation, Leadership and Leaning –REECALL.
Md. Munir Hossain works for GUK, a long-standing partner of Oxfam in Bangladesh and coordinates the REECALL project in one of the implementing regions.