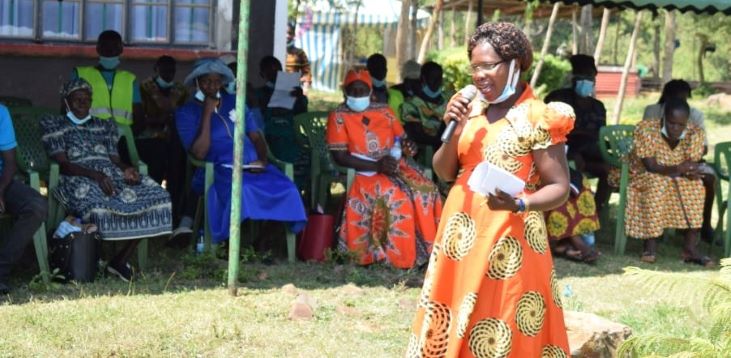 In June and July 2021, Roseline Orwa and Valentine Linette visited 5 villages in Siaya, Kenya when Nyanza province region was on a 3-month lockdown. The highly transmissible, more contagious Delta variant of Coronavirus was destroying the region. There were 2 to 5 funerals in each of the villages we visited. An elderly widow from one of the Rona Foundation groups had just died, shortly after burying her son. One village had twelve funerals, and 3 bodies were yet to be buried. The rural widows were handling familiar grief and new devastation with old knowledge from their past grief experiences that fostered their resilient mindsets.
From our interviews and interactions, we learnt that burials are less attended by crowds of mourners – as compared to the past, and community no longer demanded for elaborate and expensive funerals in Siaya. Reduced number of mourners at burials has changed the death care industry – killing some businesses and jobs.
"My catering business went down after the ban on social gatherings – with burials taking place in less than 72 hours. Lavish seven-day funeral ceremonies are gone, people no longer attend or eat at funerals. The new rules killed my catering business." Ruth, 45yr old widow tells us. Before the pandemic, Ruth was employing 10 casual workers for a 2-day funeral job in her catering, tent and chairs hiring business. She paid them 20USD for this job, which is no longer possible and those young people have to find other sources of income. Ruth struggles to find other ways to make ends meet for her three school going children and the other five she took in when her brother died.
Upon attending 2 widows burials, we noticed a new culture – Virtual burials which allow mourners to participate remotely in the actual burial ceremony. Funeral webcasting is new and getting popular, away from the recorded videos of the past.
"Somewhat it brings closure to distant family and relatives who do not get to attend burials of their kin due to Covid-19 restriction and travel challenges at this time. If this disease kills me, my daughter in America can participate in burying me in this internet way. I welcome the idea", Mama Awino, 62yr old widow shared her views.
Of note is the phone funeral tributes that was once frowned upon, is now embraced. "She can send her tributes on my burial day over her phone as I saw in the last funeral we attended in Bondo. We have to accept the new ways this disease has brought.", says Mama Awino. Family members were considered uncaring and selfish for reading phone eulogies or failing to attend burials. This has changed, but how many relatives will choose the webcast burials over the more traditional option, is yet to be known
We developed interest to learn other possible uses of the digital spaces that impact rural widows during this pandemic. We interviewed Felix, the area assistant chief, Komolo sub – location, who is a government officer in charge of local administration at the grass root level. He confirmed that rural widows are more disadvantaged by digitalization of information because of illiteracy and cost of data. Felix knows 3 other local chiefs who are now sharing information and conducting meetings through social media networks – particularly WhatsApp.
"Information was shared through barazas (weekly meetings) which we convened, but with the outbreak of the pandemic, gatherings including barazas remain suspended. We resorted to use WhatsApp which is not easily accessible to many rural widows," Felix shared. In his area, only 2 out of the eight widow leaders have reported gender based violence cases in his WhatsApp group in over a year. Widow leaders like Ruth and the 82 members in her group do not have access to smart phones. They will have to figure out how to report gender based violence and use the digital platforms regardless of age or literacy level.
Covid-19 Vaccine Myths
We randomly conducted a phone interview with eight widow leaders about vaccine uptake when it's rolled out. Five were not sure they will be vaccinated, citing Covid-19 myths and rumors. These myths are openly discussed in community markets, are endorsed by opinion leaders, are shared with family members and are a part of village gossips. One widow (58yrs old) narrated that her grandson warned her to avoid Covid-19 vaccination due to vaccine side effects such as infertility, vomiting, and its usage as a political tool to finish the black populations. The other three, spoke of vaccine unavailability in remote rural villages, and desire to be vaccinated soonest possible. "Alongside other socially constructed myths related to the Covid-19 vaccine, one that shocked me was the illusion that it's a scheme to reduce populations globally. We will need to use our platforms to urge our people to get vaccinated," stated Felix.
We learnt of the increased use of herbal medicines in some widow headed households – due to lack of money, mistrust in science and conspiracy theories. There are witchcraft claims causing family conflicts when more than one person fall sick or die in one household. Six out of the eight widows had used traditional herbs in 2021. One had visited a local herbalist for health protection and healing charms. Because Covid-19 is causing more deaths as compared to HIV, the perished villages in Siaya are confronted by old myths seen with HIV – more expounded in low literacy households.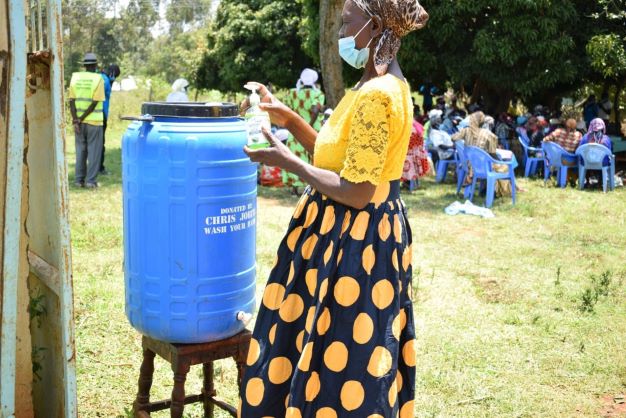 The New Normal
Six widows interviewed spoke of challenges in accessing health care services due to the long-distances and inadequate finances for transport, as well as fear of mixing with Covid-19 patients. They opt for self-medication with over the counter purchases. "The hospitals are far from our village. We opt for over-the-counter drugs which in the long run may have a detrimental effect on our health. I'd rather die taking antibiotic at home than die on the hospital benches and trouble my poor family with expenses.", says Priska, 59yr old widow, supported by a fisher man grandson.
Villages that have experienced more than eight deaths are choosing not to take the bodies to the morgue, reverting to old ways of dead body preservations. Morgues increased preservations costs, and have also become new corruption hotspots. Families of the deceased offer upfront kickbacks to get the 72 hours Covid-19 rule extended to give them more time. Disparity and lack of resources for immediate burials have become enablers, as many of those we spoke to – do not have funeral insurance. "We gave three thousand shillings for the 72-hrs to be extended by five days. It allowed us to fundraise for the burial expenses of my father. 3 days later, my mother died, we did not take her body to the mortuary. We had no money.", Aggrey 38yrs son, who lost his mother and father in July, told us on a phone interview.
Conclusion
Rural widows still hope that this pandemic will bring gains via a long process of widowhood cultural reforms. Rural Siaya is fighting Covid-19 with the same health infrastructure, tools and mindset used for HIV, that turned the villages in to graveyards. There is urgent need to equip and build new health facilities and bring medical services closer to the people. The vaccine roll out must target the perishing villages with full involvement of community and religious leaders to increase vaccine uptake. Lastly, there is a huge need for rural digital schools to bring Siaya widows to engage in the digital economy.
About Author: Roseline Orwa, widow champion, is founder and director of the Rona Foundation, and a Life Long Atlantic Fellow for Social and Economic Equity at the London School of Economics.