Jiselle Steele of the Oxfam Business Advisory Service (OBAS) explains how we are supporting the integration of a "gender transformative approach" into the policies and practices of the coffee industry – and invites you to a webinar next month to learn more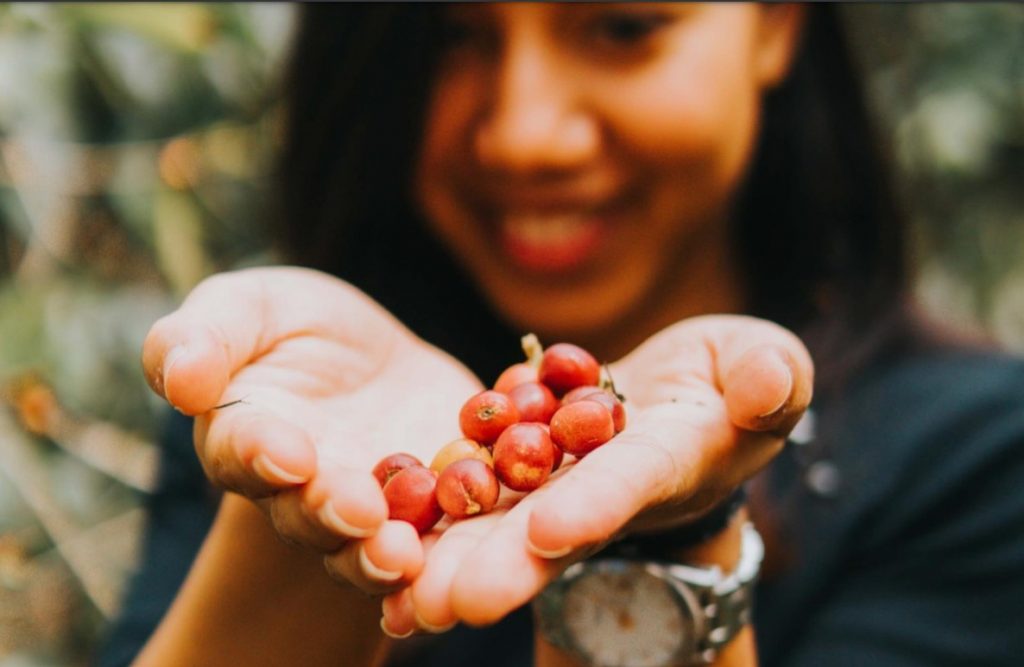 How can we improve the livelihoods of smallholder women coffee farmers and make gender equality a policy priority for the coffee sector as a whole? How should we support public and private sector organisations in the coffee industry to address negative gender norms and deliver real change on gender-based violence, unequal distribution of unpaid care work and sexual harassment and abuse?
This is the challenge we at the Oxfam Business Advisory Service (OBAS) were set by the International Coffee Organization (ICO), the intergovernmental body for the coffee industry, whose Public-Private Sector Task Force commissioned us to support them to embed gender transformative approaches throughout their plans and activities.
So what is a gender transformative approach?
Adopting a gender transformative approach means addressing the root causes of gendered dimensions of poverty, vulnerability, and inequality. It involves changing the policies and practices of institutions (such as communities, governments, and businesses) and the social norms, attitudes and practices that sustain discrimination.
Successfully embedding a gender transformative approach encourages public, private and civil society stakeholders to look at key gender issues differently. It requires new processes and ways of working that enable women, men and other genders to participate equitably to identify solutions and allocate resources to address inequality within a value chain.
What is needed to embed a gender transformational approach?
The following principles should underpin the efforts to integrate gender transformative approaches into the work of public and private sector stakeholders and multi-stakeholder initiatives that aim to tackle issues such as living income:
The ability to critically reflect and challenge the traditional gender norms and assumptions of existing social and power structures across an agricultural value chain
Ensuring the meaningful and active participation of women producers and other under-represented groups in decision making and leadership roles
Encouraging open dialogue with men, boys and wider communities to shift attitudes on traditional social norms.
Four steps to integrate gender transformative approaches in public and private sector interventions
So where do you start in practice when tackling gender inequality in a value chain – in the coffee industry and beyond? Oxfam Business Advisory Service recommends the following steps to kick off gender transformative work.
Make use of existing tools and resources and develop a timebound action plan for implementation. Tools such as the CARE International Gender Marker, the PGE Gender Equity Index, and the soon to be launched ICO Gender Transformative Tracker developed by the Oxfam Business Advisory Service, offer guidance to strengthen the gender elements of existing activity and identify opportunities to incorporate gender-transformative approaches into the design and evaluation of projects. The Joint Programme on Gender Transformative Approaches for Food Security and Nutrition by FAO, IFAD and WFP also includes a compendium of good practices for the successful application of gender transformative approaches in different contexts.
Work directly with women-led producer organisations such as the International Women's Coffee Alliance (IWCA), and allocate resources to support their involvement and build the capacity of women producers to take on decision-making roles and participate in multi-stakeholder dialogues.
Collect and publish data to monitor and measure the impact of your activities. Develop gender metrics and collect data disaggregated by gender, race, age and other identities. Publish the data and regularly report on progress made and share learnings across the sector.
Introduce gender-specific policies and adopt gender-sensitive business practices. Aim to go beyond minimum due diligence to tackle inequality and gender discrimination to remove barriers and enable the increased representation of women throughout the value chain.
If you want more detail, do take a look at the full report we worked on for the ICO.
Examples of good practice
Looking for practical examples of good work in this area?
By working together and using already available tools, public and private sector actors alike can have a significant impact to advance gender equality in agricultural supply chains. Find out more in our webinar next month – details and link to register below.
Watch a recording of a webinar Oxfam co-hosted with the Living Income Community of Practice, where you can hear more about gender transformative approaches, why they are important and explore some best practice examples

You can see the full report OBAS produced for the ICO here. A version of this blog has also been posted on the Living Income Community of Practice website