Bureaucracy or lack of understanding of communities can slow down crisis response. Our project, backed by the Grundfos Foundation, shows how solidarity between local and international partners can get round the obstacles, say Oxfam's Sherrell Perkin and Sarah Marioni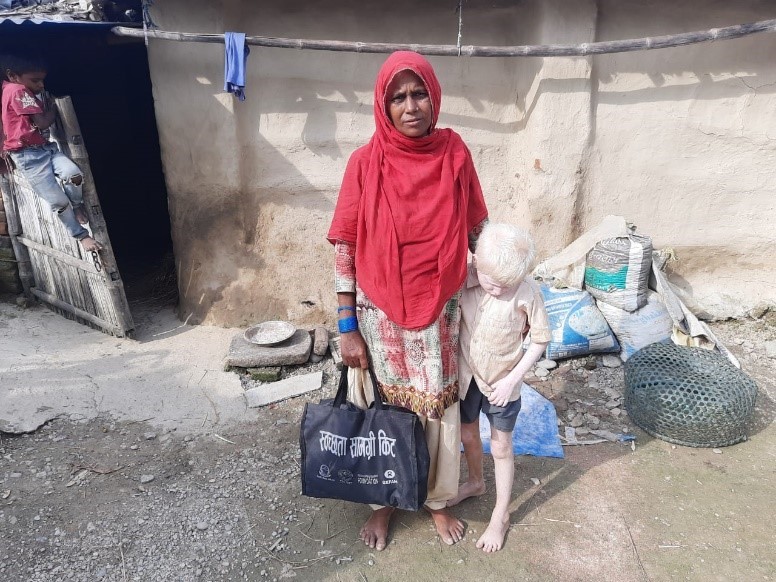 Like so many casual workers in Nepal, Sarifan Hajamin's income dried up completely with the second wave of COVID-19 in her community in 2021 and resulting lockdown. Sarifan, of Rajpur in south-western Nepal, is the main breadwinner for her family and has three sons, one of whom is disabled and has special needs.
Supported by the Denmark-based Grundfos Foundation, Oxfam and its local partner RDC Nepal responded fast to Sarifan's situation through our "Emergency Public Health Intervention for COVID-19" project. Her family received a month's supply of food and a household hygiene kit with towel, soaps, toothpaste, toothbrush, sanitary pads, underwear and mosquito nets.
"I am really happy with the support that I have received, which has helped my family to survive in this difficult situation. I would like to thank Oxfam and RDC for supporting so many people in our community at this difficult time," says Sarifan.
This project has achieved an extraordinary amount in a short time – chiefly because of the strength of partnerships that enabled rapid delivery to those most in need. In this blog, we set out how the strength of trust and solidarity between partners helped it succeed.
How a strong, historic partnership was quickly repurposed
Oxfam and the Grundfos Foundation were already in a long-term partnership in Nepal to improve access to safe water for rural communities. So, when COVID-19 struck, we were in a strong position to work on a rapid response in those communities.
The foundation quickly repurposed vital funds for the emergency response. Throughout 2020, Oxfam and the Grundfos Foundation worked with local partners to offer a first response reaching almost 40,000 people (more details of the 2020 response in this blog by Oxfam's Lyndsay Stecher).
However, in 2021, a second wave struck, proving even more deadly and destructive than the first, with the mass return of migrants across open borders, and long lockdowns slashing people's income. A new response supported by the foundation was mounted from June to October 2021, working in three existing areas (Sarlahi, Rautahat – which contains Sarifan's home town of Rajpur – and Kanchanpur), and expanding into five new districts where Oxfam's partners were operating – including the capital Kathmandu.
'This project has achieved an extraordinary amount in a short time – chiefly because of the strength of partnerships that enabled rapid delivery to those most in need'
Together, we reached 9 schools, 22 health posts, 13 isolation centres and 6 COVID hospitals – helping over 67,000 people with water, sanitation and hygiene materials, food and medical supplies, and a further 120,000 indirectly with essential health messaging. We also supported hospitals and health facilities with toilet construction, sanitisers, water filtration, PPE and vital medical equipment and supplies, and delivered over 3,000 hygiene kits and isolation kits directly to the most vulnerable households to help control the spread of infection.
The lack of a government protection scheme meant food insecurity was a growing risk, so the project also provided packages to over 2,000 families, with enough rice, lentils, cooking oil, sugar and salt for a month.
Potential obstacles to rapid response
A defining feature of this project is how we avoided obstacles that could have hampered our response, including potential delays caused by local bureaucracy, slow procurement and lack of understanding of the needs of communities.
To do this, we worked with eight local partners – all embedded and trusted in the communities. They had considerable local influence and co-ordinated with other projects they were managing, providing extra people and transport to support this project. As local partners who knew their communities, they could also procure food and hygiene materials efficiently and understand where these were needed. Coupled with Oxfam's expertise in rapid needs assessments, this helped us to be both agile and fast
Oxfam was also able to mobilise its own networks, especially in government. We co-ordinated closely with the district COVID-19 response, local government and hospitals and isolation centres to ensure that everyone understood and was working to the same goals.
A route around the bureaucracy
Although back-up from local authorities was vital, delivering through partners helped us bypass bureaucratic government procurement that would have slowed us down. "Procuring goods following government's process can be lengthy at times. In such situation, international and national NGOs can be extremely helpful as we can receive goods quickly," says Dr. Ram Adhar Yadav, Executive Director of the National Ayurveda Research and Training Center, in Kirtipur, which was supported by the project. "Government alone cannot do everything, so the effort of your organisation to support the communities of Nepal is very commendable. Because of your support… we are providing items like toothbrushes, toothpaste, soap and sanitisers to every patient… and masks to every patient every 12 hours."
The importance of keeping everyone involved
The participation of communities was also central. In a fast-changing context, we held frequent short consultation meetings with all partners – including local authorities – so that everyone was involved and invested in the design of the project. This local knowledge made it easier to resolve conflicts as they arose, and meant that people could quickly see the benefits of the programme. In fact, our most important learning was that regular, close coordination and communication with local stakeholders is crucial in delivering a rapid response.
We can now look back on this project as a great example of the value of multi-level partnership in designing a successful innovative and adaptive response to a crisis, delivered through local network mobilisation. Now this latest intervention has ended, the Grundfos Foundation continues its long-term partnership with Oxfam delivering clean water in rural Nepal.
This short film provides a snapshot of the assistance offered by the project during the second wave of the pandemic in 2021. You can also see photos from the work of the project in the second wave of the pandemic in Nepal.