Liz Newbon from Oxfam GB's education team introduces our inspiring new climate justice teaching materials for young people aged 9-16
Imagine we meet up and play a game: you play the role of a fisherwoman on the coast of a West African country, where rising sea levels are eroding the beach you rely on to land fish, while I am a wealthy male lawyer with a large house and garden in Oxford. Do you expect to change job in the next five years because of climate change? Take a step forward. Is the climate crisis having a big impact on your children's lives? Take another step forward. As you do, you'll notice I'm standing exactly where I started.
This variation on the popular "power walk" or "privilege walk" game highlights how climate change impacts people in unequal ways. It's just one of a host of activities in a new range of teaching resources from Oxfam GB to help young people learn about the human impact of climate change, think critically about causes and responses, and be inspired to take action. Though the activities have been developed for the UK and are linked to the curriculum here, they could be a useful starting point for educators in many places to spark discussion and help bring climate justice into the classroom.
'Taking climate action can develop young people's sense of agency, build skills such as leadership and decision-making, help them to build empathy and manage eco-anxiety'
These teaching resources use stories, film and role play to explore the human element of the climate crisis, supporting learners aged 9–16 to:
Investigate the links between climate change and human rights;
Start to develop understanding of intersectionality and its relevance to the climate emergency;
Discover how communities around the world are being affected by climate change, and how people are responding and adapting to these challenges;
Build skills such as empathy, critical thinking and discussion.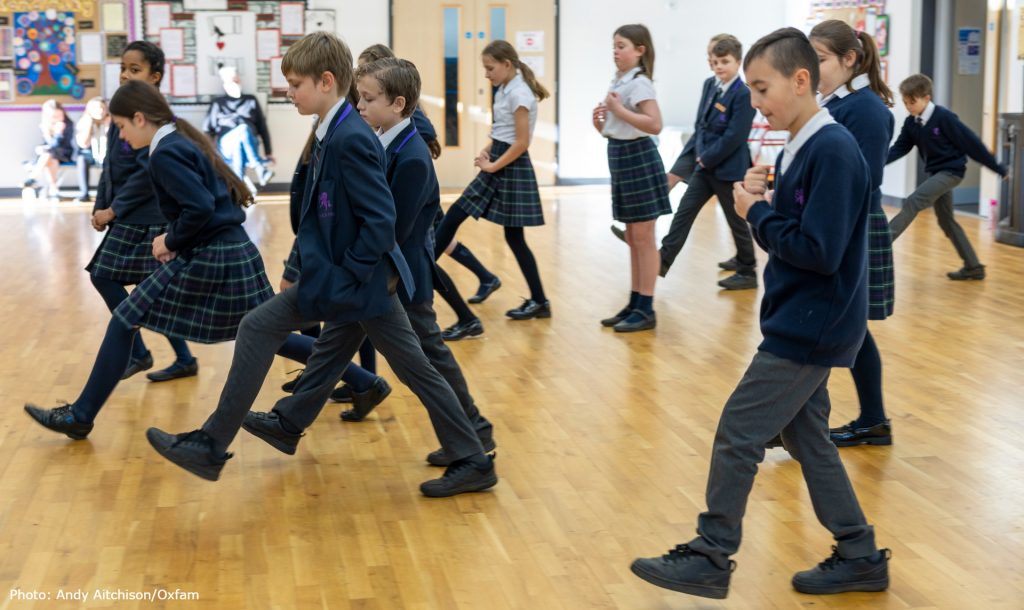 Why is climate education important?
A recent report by Votes for Schools found that 95% of young people are concerned about climate change, with 75% believing that the climate crisis will affect children's rights. The launch of the draft Sustainability and Climate Change strategy by the UK's Department for Education in England reflects growing, widespread global interest in climate education.
Education is crucial in the fight against climate change. It helps people understand the causes and impacts of the climate crisis, encouraging the shift towards more sustainable policies and lifestyles. It develops the knowledge, skills and values needed to adapt and respond to this emergency. And education builds resilience, inspires hope, and creates citizens who are motivated to take action to help shape a fairer and more sustainable world for everyone.
Why does Oxfam work with schools and teachers in the UK?
Oxfam has worked with schools and teachers for more than 50 years to support young people to develop the knowledge, skills and values they need to engage with the world. At Oxfam, we believe young people are critical to building a just and sustainable world without poverty. We know they have the power to be active global citizens, creating a fairer, more peaceful and sustainable future for everyone. We work with others to help give young people the space to think about their values, and the opportunity to develop their skills and knowledge so they can make change happen. Our education website has free ideas, resources and support for active global citizenship in the classroom and beyond.
Let's support young people to act, as well as learn about climate justice
Climate change is threating humankind and pushing people into poverty. While the climate crisis is affecting us all, it's hitting some communities harder than others — and it's the people who have done the least to cause it who are suffering the most. It's an injustice that our ability to cope with the climate crisis is based on where we live, what resources we have available, and what part of society we belong to.
That's why our resources are not just about getting informed but supporting those young people who might want to take action. We've also put together a guide for teachers with practical advice, classroom activities and helpful planning tools to inspire and motivate young people to take action for our planet and its people.
There are many ways in which we can all take climate action, from making individual lifestyle changes to participating in collective community responses that target the systemic causes of the climate emergency, and every one of these actions is important. Taking climate action can develop young people's sense of agency, build skills such as leadership and decision-making, help them to build empathy and manage eco-anxiety.
Do check out the new resources and get in touch to tell us what you think! We always love to hear about how our resources have been used in the classroom and any actions that young people have decided to take as a result.
Explore the human impact of climate change with Oxfam GB's classroom resources for ages 9-16