Thai Nguyen and Windy Massabni on three ways an Oxfam business development programme has supported hundreds of firms across the globe to boost their social and environmental impact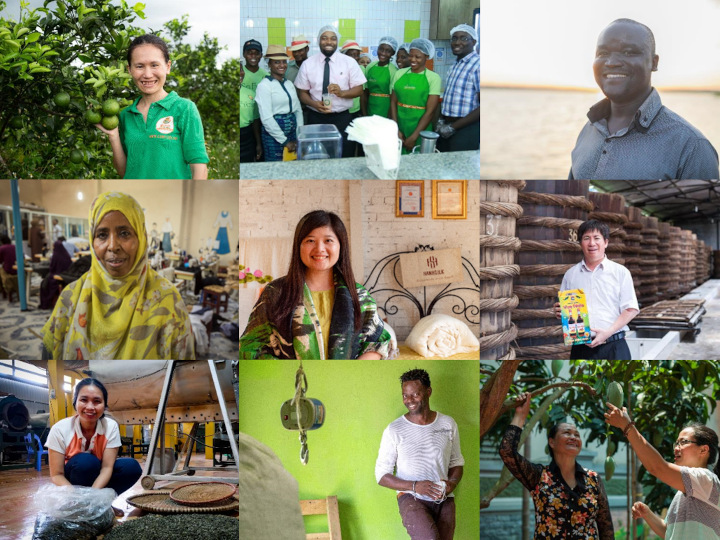 "My motivation is compassion," says Olivia Onyemaobi, the CEO and founder of PadUp creations in Nigeria, which sells reusable period pads for girls. If families don't provide their girls with the pads, they stay out of school, she says, and girls out of school are at higher risk of early marriage and sexual abuse. "For these girls, their hopes, their dreams and aspirations get cut short," she says.
Giving families who cannot afford monthly packs of disposable pads the option to buy a reusable pad that can be used for a year can transform girls' lives and opportunities, says Olivia – and of course the factory provides employment that changes workers' lives too. "We started this business to solve a problem that we discovered in society," she says. "[Now] we are putting food on people's tables… we are creating jobs, we are keeping more girls in schools."
PadUp is a superb example of how small and medium-sized enterprises (SMEs) can both be viable profit-making businesses and have positive social and environmental impact. Supporting such businesses has been the goal of Oxfam Novib's iSME development programme, which supported 370 impact-driven SMEs, including PadUp, in Egypt, Nigeria, Pakistan, Somaliland, Uganda, and Vietnam from 2015 to 2021. Oxfam helped the SMEs by working with local partners to provide training, business development services and enabling better access to financing, looking to make a difference in areas including gender equality, decent work, and the circular economy. Nearly half of the enterprises were in the agricultural sector, often working with small-scale farmers.
In this blog, we draw on our recent impact analysis to spell out three key ways the programme supported firms to address the dual goals of making profits and having a positive social and environmental impact. (You can find more details in  the full impact report: "SMEs Paving the Way for a More Human Economy: Data analysis of the impact of the small and medium enterprises (SMEs) participating in the Impact SME Development programme in Egypt, Nigeria, Pakistan, Somaliland, Uganda, and Vietnam.")
1. Helping firms put social and environmental impact at the core of their business models
The businesses targeted by the programme were selected as they showed willingness to, and interest in, increasing social and environmental impact. In the six countries where the programme was implemented, 77% of the SMEs prioritised social impact. These SMEs were often looking to implement inclusive human resource practices, such as hiring people facing employment barriers. They also tended to make products targeting low-income communities or under-served areas, such as the affordable water filters provided by Spouts of Water in Uganda.
Furthermore, 78% of SMEs prioritised environmental impact, notably by selling products that reduce harm to the environment as well as cut energy use, waste, and pollution. For instance, Chitosan Egypt makes chitosan – a versatile substance that has uses in sectors from agriculture to cosmetics to biotech – out of shrimp waste.
The iSME project has supported firms to focus even more on their social and environmental goals. Our analysis indicates that, over time, it has encouraged businesses to be bolder in their social impact priority commitments.
As one Vietnamese entrepreneur in the agriculture sector told us: "At first, I thought that impact meant simply doing some charity." But after participating in the programme, "I realised that it is not like that, but an economic model where you share with vulnerable people – the most sustainable way to grow and connect with farmers". Olivia from PadUp creations, says that Oxfam's support from 2019 onwards helped her to develop a new way of recycling waste from the factory by turning it into educational soft toys and other products, creating more jobs and sales, while cutting waste.
2. Supporting the creation of decent working environments
Alongside creating products or services that support the community, it's vital that firms provide their own workers with a good working environment. That's why the programme has encouraged firms through advice and coaching to improve working conditions.
Today, more than 70% of the SMEs in the programme have put in place four crucial decent working policies and practices: sick leave, minimum wage, parental leave, and healthcare payments.
Interestingly, we found that decent working conditions tended to improve where there were more women in senior management. One team member in charge of the implementation of the iSME programme in Somaliland observed that women leaders also supported their young staff beyond their jobs by promoting their personal development and skills development.
3. Opening up inclusive access to finance
Increasing businesses' access to finance and profitability is another pillar of the programme. We have connected SMEs to impact investors, investment funds and financial institutions and provided support to help them prepare to bid for investment. The programme also provides the SMEs with small grants as part of Oxfam's Superstar business competition, where winners chosen by a local jury receive grant funding and technical support to implement their proposed impact-focused project.
Our analysis shows that, before the programme, 19% of the SMEs sought external financing for their business operations. This rate significantly increased to 43% after they participated in the programme. For example, in Nigeria, female entrepreneurs said they felt more confident in applying for loans thanks to the training the programme provided and many of them then managed to apply for financing. The overall success rate in getting finance was estimated at 50 to 60%.
Why the world must support impact-driven enterprises
The progress made by SMEs during our programme and the positive impact they have made show the huge potential of impact-driven SMEs.
In the countries we work in, SMEs are a key driver of economic development, contributing to over 50% of GDP, 67% of full-time employment and 85% of new jobs created. That means whether through the sourcing of raw materials, employment creation, or trading with smallholder farmers, SMEs can play a key role in transforming today's economy into a more human economy, one that respects people and the planet
But transforming SME business models to prioritise social and environmental impact requires time and financial investment as well as a change in the ecosystem in which the enterprises operate. We hope our evidence-based programme points the way forward in making that change. The firms we work with are showing the world that profit-making while generating positive impacts and protecting the planet is possible. Through sharing their data and stories, we hope to encourage a change in approach to investments, influence policies, transform business models and change the system from within, one business at a time.
For Olivia, the CEO of PadUp Creations, global business goals are matched by her high hopes to make a difference for women and girls, and for the planet. "My biggest ambition is… that this company becomes among the top five global companies making creative sanitary solutions in the world," she says. "And I also want to see every girl, every woman irrespective of their economic class and location… have access to… pads."
Find out more about the ISME Programme . And read the impact analysis report here.