As the world confronts the widespread hunger caused by the worst drought in 40 years, we must not forget it is also having a devastating impact on schools, health and the animals that are the basis of so many livelihoods, says Abdiaziz Adani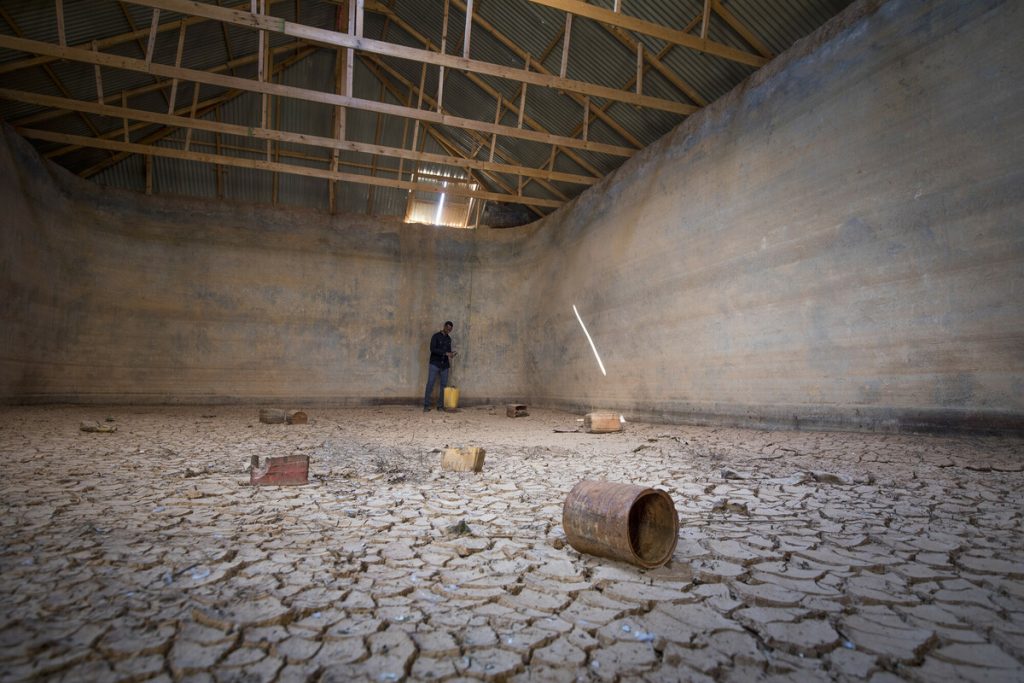 The droughts in Somalia, which began in 2020, are the worst and most prolonged in 40 years. Some 7.8 million people are affected either by acute food insecurity or heightened risk of famine, says the Famine Early Warning Systems Network (FEWSNET). Some areas have suffered up to a 75% reduction in crop production. In some areas where there is no access to wells, people have migrated to urban areas for survival or left for other countries, such as Kenya and Ethiopia, where they can find drinking water.
Hunger and thirst are the most immediate and devastating crises that demand humanitarian action, but the effects of this deadly climate crisis extend far beyond that. In this blog, I want to highlight devastation to three other essential parts of life in Somalia: education, health and livestock farming.
Education: 'We don't have food so how can they go to school?'
Children's education is always one of the first things hit by drought. Today, lack of resources and the need to find new sources of income are forcing Somali parents to withdraw their children from school, especially in areas with no clean water. Even where schools are open, students cannot afford to buy water and food. In other areas where water is available, parents are being forced to take up additional jobs that require them to leave home for long hours during the day, leaving their children unattended and making school attendance impossible. Some parents are compelled to send their children to work to earn extra income to survive. Girls are most affected by these problems.
Asha Abdilahi has five kids and lives in the Garowe IDP camp, Puntland, with them. She has lived in a camp for the past three years. After the drought, she had to move, and all of her livestock perished. When asked about her kids' education, Aasha says: "My kids are old enough to go to school, but I haven't sent them yet. We don't have food, so how can they go to school? I leave for work in the morning and come home at night. I get something to eat sometimes, but not always. We don't even have enough food to eat, let alone worry about things like school."
Health and health services: 'Malnutrition causes many other diseases'
Health has been hugely affected by the drought. The most stark challenge is malnutrition, which is higher in many drought-affected areas. It is estimated that half of children In Somalia under the age of five, about 1.8 million children, are now malnourished.
"There is an increase in the number of cases of malnutrition in children during a drought because they cannot get the food they need," says Dr Mohamed Abdi, director of Burao hospital in Somaliland.
Cholera and other health complications have also increased. The problems for people in these areas are compounded by a lack of health services in rural areas. Low-income people in rural areas are forced to buy medication and often only make the journey to health centres when problems get severe.
"Malnutrition causes many other diseases that are difficult to overcome," explains Dr Abdi. In the past five months, there has been a rise in the number of malnourished children admitted to the hospital. "Most of them come to us while they're really weak because people from rural areas do not immediately come to health centres, and sometimes they do not have access to them," he says.
Loss of livestock: 'The drought damaged not only our livelihood but also our pride and freedom'
Livestock farming is one of the primary sources of income for many people in Somalia. But in the drought-affected areas, people have now resorted to selling this livestock at low prices or even giving animals away so they can save money to spend on other essential needs.
Since mid-2021, starvation and disease have killed 3 million animals. The loss of livestock is likely to lead to a reduction in milk production and meat supply, which means that meat, milk, and eggs will be more expensive for already poor and malnourished families.
In Geri Hel village in Puntland, I met "Roble", who was going to get water for the few livestock he has left, having already lost hundreds to hunger and thirst.
"Our livelihood was based on livestock. We had almost 400 livestock as a family. They were all killed by the harsh droughts," he said. "We used to buy anything we wanted when we had animals, and anytime the family needed money, we would cover it by selling one or two goats. There is no such thing any longer! We now rely on assistance from non-governmental organisations (NGOs) or family members.
"The drought damaged not only our livelihood but also our pride and freedom. We used to get water for the family, but now we also give water to the animals because they can't move to find water on their own. The livestock are weak and want to be fed."
We have to build Somalia's resilience to stop this happening again
The impact of this drought on people and their livelihoods has been devastating, with particular impacts on children, women, and the poor, and the impacts are expected to continue for months until the rains come. Food and water shortages have also led to an increase in conflict and fighting, as well as disease outbreaks. Immediately addressing these challenges demands an urgent increase in the response from governments and NGOs. The speed at which the situation is changing requires immediate and flexible funds to support people in need.
But in a country that faces recurring drought, the needs of people in Somalia cannot be addressed solely by one-time funding: they require long-term support. It will be essential to invest in preventive measures for the future such as water conservation and sustainable livelihoods.
The government and international partners need to work on improving the country's ability to withstand and recover from natural disasters and climate change. While outside support will always be needed, the country has the potential to achieve self-sufficiency and much greater self-reliance through improvements agriculture, education, health, and water and sanitation. We must invest in developing Somalia's people and natural resources to achieve self-sufficiency.
As this recent blog outlines, a crucial lesson from this and previous food crises is that the region needs a "triple nexus" approach across humanitarian response, development and peace work to deliver sustained change and build resilience to future climate shocks. An important part of this for Oxfam will be to build partnerships with local organisations, who are best placed to design and deliver complementary interventions across humanitarian, development and peace – something I will return to in future blogs.
Want to find out more: read our new media release on hunger in Somalia.