Our projects on the ground already show the huge potential of renewable energy to transform the lives of poorer communities, says Maria Rosario Felizco of Oxfam Pilipinas. That's why we're fighting for a national energy transition that delivers justice and fairness for everyone.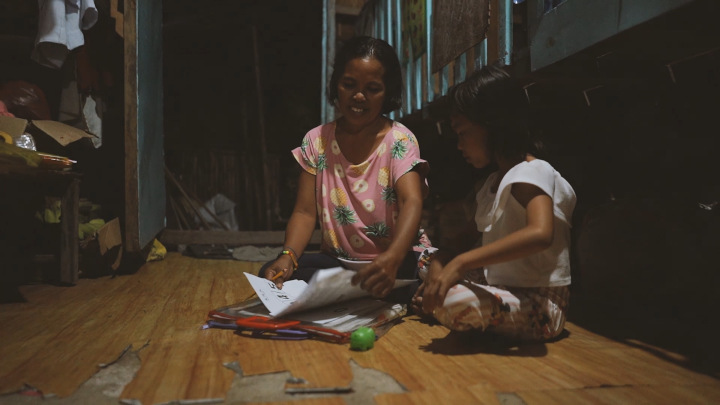 The Philippines ranks as one of the countries worst affected by the climate crisis, including the devastating typhoons that have intensified with global warming.
The scientific consensus is that to prevent global climate catastrophe, global emissions need to be halved by 2030. At Oxfam Pilipinas, we think the Philippines should contribute its fair share of global efforts to curb emissions by transitioning to renewable energy and escalating efforts to lessen its dependence on fossil fuels.
But crucially, this transition needs to deliver justice and fairness for everyone in the Philippines. That's why Oxfam Pilipinas is working with local and international organisations to ensure that fairness is at the core of our energy transition. We aim to boost awareness of energy issues, lobby for reform of government policies, and ensure critical financing is available to support and scale up community renewable energy initiatives.
Renewables must be a much bigger part of our energy mix
Climate justice suggests that countries responsible for the crisis should do more and pay more. Viewed from a global perspective, the Philippines is a minor emitter, contributing barely half a percent (0.40%) to global GHG (greenhouse gas) emissions. However, its emissions are on the rise due to energy use and land use changes. The government acknowledges the need to cut these emissions in its 2021 Net Development Contribution(NDC) (the commitment each country has made at UN climate summits to cut emissions). It has signed up to a GHG emissions reduction and avoidance target of 75% by 2030, of which 2.7% is unconditional and 72.3% is conditional on external finance. This commitment covers agriculture, waste, industry, transport, and energy sectors.
Curiously, however, the Philippines NDC pledge does not have an explicit target for shifting its energy mix, particularly in lowering the share of fossil fuels. Yet over half of the emissions in the Philippines come from the energy sector (54%). In fact, emissions from fossil fuels, particularly coal and oil, have risen sharply over the past two decades despite the country enacting a Renewable Energy Law (Republic Act 9513) as early as 2008.
Benefits – and costs – of transition
So there is a clear need for the country to step up the pace of switching to renewables. We also know such a transition has the potential to deliver many benefits in terms of improving health, children's education and local livelihoods, as well as reducing the drudgery of the domestic work borne largely by women. It is also estimated that transition to clean and renewable sources could create as many as 178,000 new green jobs in the country.
However, there are also potential costs of the transition. Increasing global demand for transition minerals for electric vehicles and batteries poses threats to forests and forest-dependent local communities, including Indigenous Peoples. The Philippines is one of the leading producers of copper and nickel, critical minerals for the energy transition. We are therefore calling for stronger regulations on the extraction of transition minerals to protect communities affected, especially given the poor history of the mining industry in the country.
The projects already boosting the wellbeing of communities
So realising the benefits and minimising the costs of transition, especially for lower-income communities will be at the heart of Oxfam Pilipinas advocacy. We will be campaigning for the government to make the policy and regulatory changes needed to deliver accessible and affordable renewable energy, including making renewables a prominent part of local development plans and streamlining approvals for renewables projects. Importantly, that campaigning will be informed both by research and by our own programmes on the ground that already demonstrate how community energy schemes can improve energy access, women's livelihoods, and the well-being of local communities.
In the eastern Phillipines, we have been supporting a community clean energy project that is bringing solar-powered electricity to a fishing community in Dolores town, Eastern Samar province.
There, Oxfam Pilipinas and SIKAT Inc. (a local NGO) worked with Hilabaan Women's Association, to establish a community-based, off-grid, solar-powered micro-grid system. The management of the micro-grid has been handed over to the women's organization, which now runs it as a social enterprise.
The system includes six solar-powered streetlights and solar-powered electricity for 124 households in the local fisherfolk community. The new lighting and power are delivering real change to women's lives. Angelica Legria, a 25-year-old mother of two in a fishing family, says: "My family is now better able to fulfil our caring responsibilities as we can help our children with their schoolwork at night." Jocelyn Sugalon (pictured above), mother of six, says: "It's hard to make a living without light. My children also need light for their [schoolwork] module and I need it to make rice cakes. To me the benefit of solar energy is it provides us light that helps when doing the modules and making rice cakes."
Why we need to spread the benefits of renewable energy much further
We recognise that much more needs to be done for other families like the Legrias and Sugalons, who are still missing out on the benefits of clean energy.
The scale of need was apparent during a trip our team made to explore renewable solutions for off-grid communities in the province of Tawi-tawi in the southern Philippines.
On our way to Bongao town, the roadside was littered with tropical fruits such as marang, rambutan, mangosteen, durian, and lanzones, prized in urban cities yet here just falling to the ground and left to rot. We wondered what the possibilities could be if the communities had access to energy and technologies that would enable them to, for instance, preserve and process these produce.
We stopped at Malasao, a coastal village facing the Sulu Sea. Here we caught up with Nurhaina (not her real name), mother of three children, who picks and crushes stones for construction materials and takes home 100 pesos a day ($2) for her efforts. Nurhaina's husband is a fisherman who takes home about 250 pesos ($5) from fishing on a really good day. She supplements her family's income by selling charcoal.
When we asked if life would be better if she had access to electricity at home, Nurhaina said: "I don't know. We never had it all our lives." Our programmes already show how she and other low-income families like hers could see their lives transformed by renewable energy systems. Now we must ensure that the switch to renewable energy delivers that transformation by ensuring a just transition for them, and for everyone in the Philippines.
Find out more: Read the new Oxfam paper about the Just Transition: Towards a Just Energy Transition: Implications for communities in lower- and middle-income countries and a new blog introducing the paper.