Ministers insist UK weapons aren't causing widespread civilian deaths. As campaigners today launch a fresh legal bid to stop UK arms exports, new evidence collected by Oxfam shows that claim simply doesn't stand up, says Martin Butcher.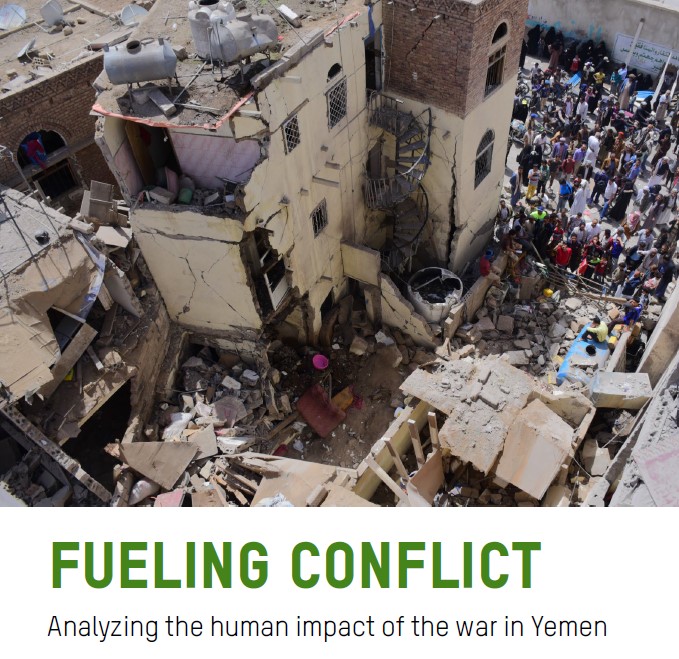 Back in 2020, the UK's then trade secretary Liz Truss allowed sales of arms to Saudi Arabia that could be used in Yemen to resume, after campaigners had won a 2019 court case that had paused them. The government insisted exports could restart as there had been only "isolated incidents" of airstrikes that breached international humanitarian law. From Oxfam's experience in Yemen, we doubted this – and set out to look at the numbers.
As campaigners once again mount a legal challenge to stop UK arms going to Yemen, we have the results of that analysis: it demonstrates that there is indeed a pattern of harm to civilians – and that in fact devastating harm to civilians happens daily.
'Saudi-led coalition air strikes were responsible for at least one incident that harmed civilians per day. There were 87 civilian deaths and 136 injuries in these airstrikes'
Using data from the Civilian Impact Monitoring Project, we found 1,727 attacks on civilians or civilian objects over a 14-month period in 2020-21, with a quarter of those incidents being airstrikes by the Saudi-Led Coalition, whose weapons are supplied by the UK and US. There were attacks on houses, farms, transport infrastructure, hospitals and clinic, mosques, markets, factories, shipping boats and more. These attacks caused 2,614 civilian casualties, of which 839 were deaths and the remainder injuries. Many of these may be war crimes.
Our new report Fueling Conflict: Analysing the Human Impact of the war in Yemen examines data provided by the Yemen Civilian Impact Monitoring Project and argues that arms sales must stop because that harm is so great.
How UK and US arms cause daily devastation
Focusing specifically on the Saudi-led attacks, we found that between January 2021 to the end of February 2022, in addition to widespread destruction of vital civilian infrastructure, Saudi-led coalition air strikes were responsible for at least one incident that harmed civilians per day. There were 87 civilian deaths and 136 injuries in these airstrikes, and 293 coalition attacks that forced people to flee their homes. This is a pattern both the UK and US governments have ignored in continuing to sell arms to the Saudis.
Hanan and her family were amongst those displaced by severe Saudi aerial bombardment. A single mother with two young daughters, she was living in Al Hudaydah. She told us: "My children were going to school. We fled our home because of war, as we were vulnerable to the bombing and hearing its roar over our heads from inside the house. We were living in constant fear."
What we found is that attacks on civilians are relentless, happening multiple times every day. We found that no area of Yemeni society escapes these attacks, that civilians are killed and injured or forced to flee their homes almost every day. We found attacks on homes, shops, farms, markets, mosques, hospitals, clinics, schools, transport, electricity, water and communications infrastructure.
All of this devastating evidence, we would argue, casts serious doubt on UK government claims that serious violations of International Humanitarian Law (IHL) caused by the UK- and US-armed coalition are rare in Yemen.
Attacks on hospitals and food supply
The medical system in Yemen has been decimated. In the months we examined, there were 19 attacks on hospitals, clinics or ambulances, with 13 of those being airstrikes conducted by the Saudi-Led Coalition (SLC), attacks forbidden in international law.
The conflict is also cutting off desperately needed food supplies. Yemen imports around 90% of its food, as food production there has been severely impacted by the war. Farms in particular have been hit, with a total of 179 attacks recorded on them. One lasting effect of the war is that agricultural land cannot be used because of unexploded bombs, cluster munitions or artillery shells, as well as landmines, left on the ground.
The harms are not just caused by the coalition: we found that all parties to the conflict have repeatedly harmed civilians during the eight years of war in Yemen.
What about breaches of international law?
Oxfam cannot judge how many of the hundreds of incidents we have looked at are violations of international humanitarian law. Frustratingly, the independent UN mechanism created to do so has been shut down after Saudi Arabian pressure on the Human Rights Council members. That UN Group of Eminent Experts had been the only way that war crimes could be officially identified – so there is now no international accountability for those who break international law.
But in what could be a crucial moment here in the UK, this week Oxfam is supporting Campaign Against Arms Trade (CAAT) in their second High Court judicial review to determine whether UK arms sales to Saudi Arabia are lawful.
That means we are going to court to try to stop the flow of arms that fuel attacks on civilians in Yemen and force the UK to abide by national and international law.
The UK, US and others must be held to account for the billions of pounds in arms they have poured into this conflict. Since 2015, over £23 billion of UK arms have gone to Saudi Arabia for use against Yemen.
Our new report shows that the UK government is simply wrong to say our arms exports aren't harming innocent civilians. In fact, UK arms sales are continuously fuelling the conflict in Yemen that has raged since 2015. That means British-made planes and missiles, serviced by British personnel, are involved in the daily air attacks that have become a terrible reality for Yemenis. That pattern of devastation cannot stop soon enough – and the UK has the power to make it stop.
You can watch a Middle East Monitor report about the new paper here.

Read the full report Fueling Conflict: Analysing the Human Impact of the war in Yemen and find out more about the upcoming court case led by the Campaign Against Arms Trade and supported by Oxfam here