Shuna Keen talks to our Kenya director about his reflections on November's AidEx humanitarian conference in the city at the heart of the EU, including how food sovereignty is being undermined by the corporations that produce genetically-modified food and seeds. He also welcomes the recent big step forward by the EU's department for humanitarian aid, DG ECHO, on promoting local humanitarian leadership.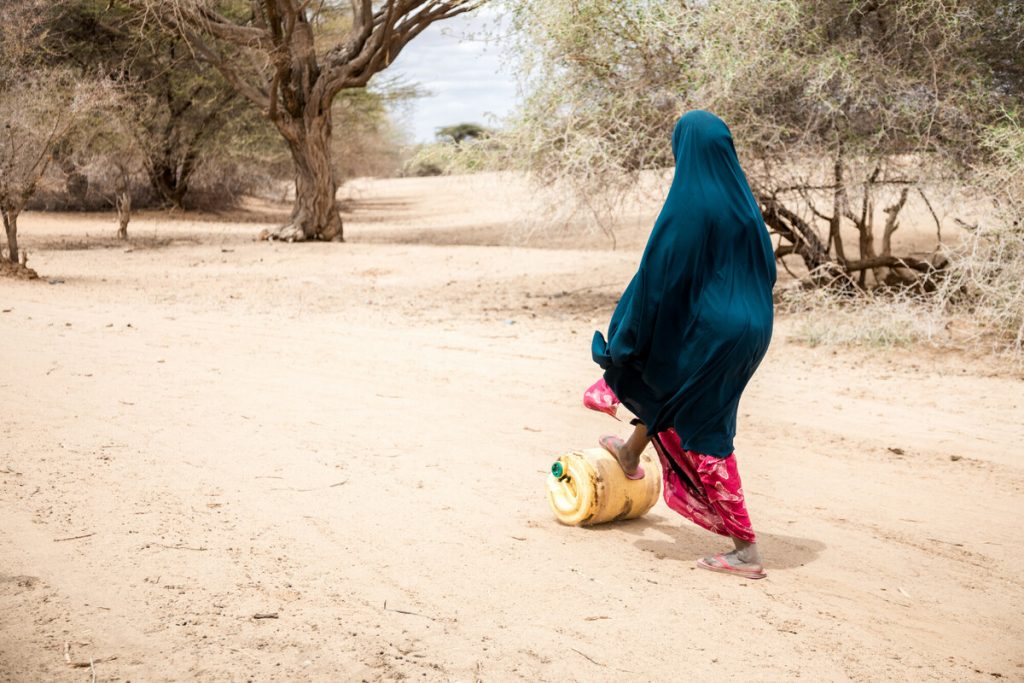 John, it was great spending the week in Brussels with you at the AidEx humanitarian conference. We certainly packed in a lot! It was really exciting to have you speak at so many events. What were the highlights?
It was great hanging out together in Brussels! What comes to mind first are the conversations around the expansionist tendencies not only of INGOs but also private-sector actors when it comes to humanitarian work and capitalising on humanitarian crises. They grow their market share at the expense of local actors, be it community organisations or local governments. No one celebrates becoming smaller to cede space to the most appropriate, locally grounded, ever-present and well-informed frontline agencies.
'Increasing funding to frontline first-responding organisations is a primary, integral, and maybe the only, capacity-building strategy that works'
The second highlight was the conversation with the EU about their willingness to support local actors – which is hampered by being tied to EU rules about funding European agencies. And the last highlight was the beautiful old architectural structures of Brussels itself.
What were the top three lobbying messages you prioritised in the various EU forums over the week?
The first message was about proactive finance being a key driver of local partners' capacity. The more we move funds to frontline organisations working on COVID-19, locust infestation, and now the ongoing drought in Kenya, the more they have resources to hire more staff and invest in systems.
A central, stereotypical myth, peddled as a barrier to local humanitarian leadership, is the lack of capacity by local actors. This has led to many false starts in terms of building capacity through training, consultants, mentorship etc. All these are important but increasing funding to frontline first-responding organisations is a primary, integral, and maybe the only, capacity-building strategy that works.
The second message has been trying to raise support in responding to the ongoing hunger crisis in the Horn of Africa, precipitated by the worst drought in 40 years. With the fifth consecutive rains failing, donor fatigue setting in, and increasing misery for citizens of affected countries, we need to ask donors such as the EU not give up on the most vulnerable communities and to continue supporting frontline organisations responding to save lives.
'Genetic modification of seeds is being instrumentalised to ensure smallholders become slaves of seed and food corporations.'
The third message has been to sensitise the EU to the other drivers of food insecurity in Kenya besides drought and climate change. In particular, an onslaught by corporations on smallholder farmers, riding on the food insecurity crisis made worse by the drought, Ukraine conflict and high global fuel and food crisis.
Profit-chasing food and seed corporates, genetically modified (GM) seeds patent holders, and billionaires prospecting in the food industry are colluding with the political class in Kenya to push GM food and seeds as the silver bullet to end food insecurity. This will harm smallholder farmers, undermine food sovereignty, destroy the biodiversity of food crops farmers grow, and harm the environment.
On that first message about supporting local actors: since the conference, ECHO – the EU's department for humanitarian aid – has taken what seems like a big step forward recently with the release of its new equitable partnerships policy?
Yes, DG ECHO's equitable partnership policy looks like a big step forward on local partnerships that could set the standard for the whole sector and help transformation. The policy, Promoting Equitable Partnerships with Local Responders in Humanitarian Settings, states clearly that "humanitarian action is more timely, cost effective and efficient when locally driven, as local actors possess the knowledge, the networks and the political and cultural awareness to deliver results on the ground". I understand Oxfam teams across the confederation have been heavily involved in the making of this policy, and welcomed it at the 2023 European Humanitarian Forum. Now that the policy is there, we expect ECHO and aid agencies alike to deliver on this long awaited change and make humanitarian aid locally-led.
An issue that really resonated with me was your emphasis on understanding the current crisis in Kenya as ultimately a crisis of inequality. Tell us more…
Yes, the hunger crisis in Kenya is an inequality crisis. It may have been precipitated by the climate events, drought and the invasion of Ukraine by Russia, but there are deeper causes: despite the food-growing regions of Kenya having a bumper harvest in the past two years, Kenyans in Arid and Semi-Arid Lands (ASALs) have no food to eat because they don't have money to buy it.
Governments also fail in their duty to protect lives of citizens by failing to facilitate redistribution of food through cash transfers or food aid, as part of social protection programmes. This underlies the starvation of some in a country that had plenty elsewhere.
Kenya has seen its GDP growth recover since COVID-19: the rich have become richer while communities in the ASALs and urban informal settlements have seen their assets disappear. GDP growth is driven by concentrated income and wealth growth by a few. Solutions to the hunger crisis must involve bold steps to fight inequality, especially through tax-based redistributive public mechanisms, failing which we are on a downward spiral to worse humanitarian crises in future.
Democratising food systems came across as a major factor in resilience and food security in Kenya. Can you break down the main issues?
Food sovereignty has been central for millennia in ensuring food security for many Kenyan smallholders. I grew up in a village and we had five acres of land that my grandparents owned. Today we could call this an agroecological farm. It provided a wide range of grains, vegetables, domestic animals, insect foods like termites, wild mushrooms etc through the years. It was abundant with bananas, cassava, millet, maize, beans, pumpkins, fruit trees, traditional leafy vegetables, eggs, poultry and meat. Even when droughts came, there was always something on the farm to harvest and eat. We sold some to the market to get money to meet other needs.
That sovereignty is now being undermined with the facilitation of the Kenya government and huge influence of profit-chasing GM food and seed corporations and billionaires. Some influenced the passing of a tyrannical law criminalising community seed storage, display, sharing, exchange, or trading at local markets. This law means that folks like my grandparents and relatives who rely on subsistence agroecological farming cannot continue to replant their wide range of vegetable seeds, share seeds with their neighbours or sell surplus seeds or purchase them from local markets when they need to. If they do, they risk two years in jail and Ksh2,000,000 (US$16,000) in fines. Such laws undermine the food sovereignty and food safety many Kenyans have had for millennia.
'EU trade deals that encourage export-led growth need to be rethought. These deals are promoting the expansion of cash crops over sustainable local food production'
Genetic modification of seeds and patenting them is now weaponised as a technology to colonise food systems, restrict communal seed systems, and erode local plant food varieties – all backbones of food sovereignty. It is being instrumentalised to ensure smallholders become slaves of seed and food corporations. Our farmers have selected, preserved, shared, exchanged and replanted a range of seeds and food crops over the centuries to provide a rich inventory of indigenous and heirloom grains, roots, vegetables, herbs, spices, and medicines. This preserved biodiversity is at risk, and with it food security and food sovereignty – all sacrificed at the altar of profit and political rents.
The key threat is that the multinational corporations and their lobbyists are deep-pocketed and our politicians have a very low price tag. It will take concerted effort by smallholder farmers, citizen groups and activists to mobilise and push back against them.
This is not about being anti-biotech: it is about saying genetic modification can have its place, but not at the expense of smallholder farmers or conventional and indigenous food systems.
What are for you the main takeaways on EU policy regarding localisation, inequality and tackling the longer term root causes of drought and hunger in Kenya?
EU policy can help in three main ways. First by increasing funding to local actors to enable local humanitarian and development leadership. Local actors are our only hope for an effective humanitarian response when disaster strikes, and also in dealing with the root causes of crisis, including inequality and profit-chasing corporations. It is certainly a step in the right direction that ECHO's equitable partnership guidance sets out renewed commitments for the EU humanitarian donor to allocate at least 25% of its funding to local and national actors as directly as possible. Quantity and quality of funding for local actors are two issues that Oxfam has been advocating on for several years now.
Second, on the hunger crisis, boldly investing in tackling climate change and inequality are central and integral. Cutting emissions by rich countries is an existential imperative. The EU can lead on this and advocate for the US and China to follow suit. It can help by supporting investment in rehabilitating drylands, harvesting overground rainwater, protecting river basins and wetlands and incentivising farmers to shift to agroecological methods of food production.
Third, EU trade deals that encourage export-led growth need to be rethought. These deals are promoting the expansion of cash crops over sustainable local food production. This leads to the redirecting of public services – including agricultural public sector investment, water, land use policy, and other public resources – away from sustainable local food production. It also cuts support such as agricultural extension workers and subsidies to smallholders, undermining food sovereignty.
What next? What are the priorities for aid system change?
The current aid system is competitive. We seem to all be caught in a capitalist frame of thinking and being in the marketplace, with scarcity as ubiquitous, growth as the goal and competition as the means.
The key priority therefore is a mindset shift to more collaborative thinking. Oxfam needs to leverage collaboration with frontline responders close to communities affected by disasters, connecting them to advocacy targets such as donors, G7 countries and related organisations in Brussels, London and Washington DC. We also need to support citizens to demand from governments a progressive tax regime to enable investment to reduce inequality, such as public education, health and water services.
Without this mindset shift, the aid system is unlikely to contribute to building movements that really shift the reality on the ground and that deal with both symptoms and root causes.
John and Shuna attended AidEx 2022 in November, a leading global humanitarian aid and disaster relief event, where John spoke at speak at a panel event on 'Resilience – What local mechanisms should be put in place to cope with future disasters?'. They advanced Oxfam's commitments and policy on addressing the root causes of fragility and humanitarian crisis and localisation.
Find out more: Listen to an interview with John on the From Poverty to Power site about the deeper issues of power and inequality in the aid system. And take action to support Oxfam's campaign around the East Africa hunger crisis here.