Millions of people provide essential paid and unpaid care such as support for children and disabled, ill and older people. Yet their huge contribution contrasts starkly with threadbare state support for their work. Anam Parvez and Silvia Galandini look at the high price carers, and especially women, pay for society undervaluing care – and the policies we need to fix our broken care infrastructure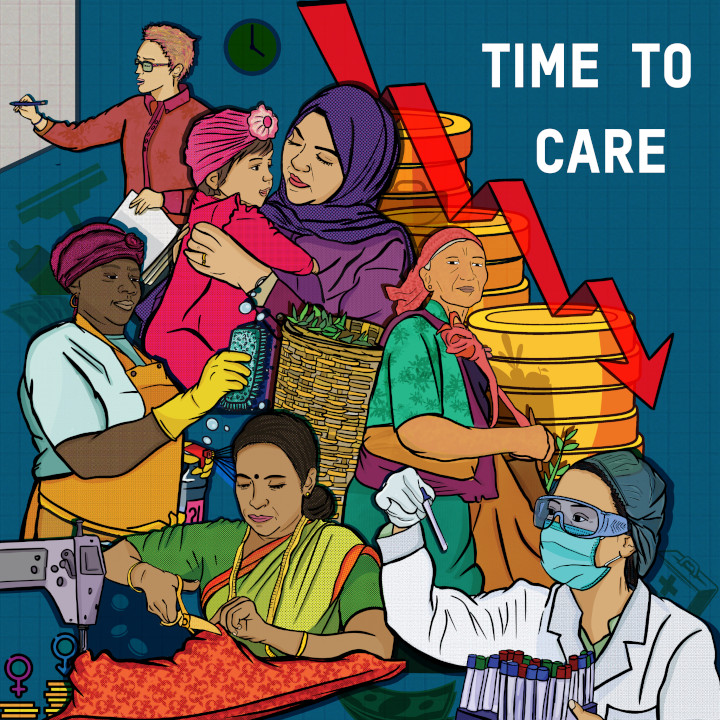 Across the UK an invisible network of millions of paid and unpaid carers helps children to grow and learn, supports disabled and older people, keeps our homes running and holds up our economy. Yet this care is taken for granted and undervalued by governments and wider society.
Unpaid care work is generally seen as something that someone – most often women – will take on at home with little support, rather than being the government's responsibility. Meanwhile, paid care work is dismissed as low-skilled work. And all care, paid or unpaid, is seen as having little or no social and economic value.
In this blog, we spell out the unacceptable price so many carers, and especially women carers, pay as a result of those in power undervaluing care, the prejudices that keep care off the UK policy agenda, and the policy changes we need to make sure no one experiences poverty due to the care they provide.
The high price carers pay for society undervaluing care
Carers are left to pay the highest price of the under-valuation of care, with too many experiencing deep financial hardship and poverty.
The poverty rate for working-age parents (23%) and unpaid carers (29%) is higher than for those without children (18%) or caring responsibilities (20%). In the midst of the cost-of-living crisis, a quarter of unpaid carers said they were cutting back on essentials; and research published in early 2023 showed that around one in five single parents surveyed said they had started using food banks.
This is because many unpaid carers are forced to leave paid work, take on low-paid jobs or reduce working hours as they struggle with juggling caring responsibilities and paid employment. Or have to rely on inadequate social security benefits that are simply not enough to cover basic needs. All this while facing higher costs due to the care they provide (for example for childcare or medical equipment), and very often receiving insufficient support from over-stretched and under-funded care services, which also rely more and more on private providers, where often profits are prioritised over quality and access to services especially for the most marginalised groups.
When it comes to paid care work, the picture is no better. Paid care workers, both in social care and childcare, are widely under-rewarded. In the UK, occupations such childminding and care work accounted for the largest number of employee jobs paid below the real Living Wage in April 2021. Over a quarter of the UK's residential care workers were living in, or on the brink of, poverty in 2017-20.
Women do the vast majority of both paid and unpaid care across the UK. They provide £382bn worth of unpaid childcare and £50bn worth of unpaid adult care each year; and represent more than 80% of the workforce in adult social care and over 90% in the childcare sector. Black and minority ethnic women are more likely to live in households with dependent children and larger families. They are also more likely to work in health and social care.
As most carers are women, then it is women, and particularly those facing multiple forms of inequality based on income, race, ethnicity and migrant status, who pay the highest price of the undervaluation of care.
Why do governments and society neglect carers?
The discrimination and injustice experienced by carers and women carers in the UK and all around the world is rooted in widespread beliefs about who and what matters in our economy. These beliefs are embedded in a sexist and extractive economic system which values wealth accumulation for a few, over decent work and wellbeing for all. False beliefs that lie at the root of the neglect of carers include:
the belief that the only activities that matter for the economy are those that produce monetary value – and so do not include millions of hours of unpaid care work done primarily by women;
the belief that the labour of women and non-binary people, those living in poverty, migrants, ethnic or religious minority groups is generally less valuable and worthy of rights and dignity;
the belief that care work is women's work, rather than a responsibility that should be shared equally across genders, and between communities and the state.
It is vital that we challenge these beliefs and prejudices, as they make it much easier for governments to continue to disregard and undervalue care work in their policies and spending decisions.
An economy that values care is possible
At a time when, every 30 hours, a new billionaire is created, while a million people are expected to be pushed into extreme poverty – as shown in Oxfam's report, Profiting from Pain – change is urgently needed in the UK and globally to transform the systems that perpetuate inequalities and injustice, including the undervaluation of the care work done by billions of women.
Approximately 1.3 billion women globally are part of the paid and unpaid care workforce, working in precarious, even hostile, conditions. Women and girls are more likely to have fewer assets, earn less money for the same work, have less education, and live in poverty in old age. They are also prevented from affecting change due to time poverty and exclusion of their voices. This discrimination is being compounded by multiple crises of climate, conflict and austerity, pushing the world off track from its global 2030 goals including on gender equality.
We need governments across the world to address and reduce discrimination, and the harmful beliefs that fuel them, by using their powers to recognise, reward, reduce and redistribute care work.
In short, we need a feminist economy in the UK and globally that will boost all of our wellbeing.
Pioneers outside the UK are already showing us that a new way of running the economy is possible – and it is a political choice not to move towards it. In Bogotá, Colombia, the government has developed the Bogotá CARE System, which is leading to the reorganisation of how the city is planned and operates, centring women whose lives and work have previously been invisible, prioritising the wellbeing of both caregivers and the cared-for, and allowing women to take care of themselves knowing that their loved ones are receiving the best possible care.
How governments across the UK can start to value care work
In the UK, a new deal for care would require a clear commitment from UK and devolved governments to:
increase investment in care infrastructure (both social care and childcare) and ensure that quality and accessibility of services are prioritised over profits – meaning not only that adequate care is available to all who need it but also care workers have access to safe and fairly paid jobs;
strengthen the social security safety net, so no one falls into poverty, including those who are unable to be in paid work due to illness, disabilities or caring responsibilities;
ensure adequate support and flexibility in the workplace for those juggling unpaid care and paid employment;
take decisive steps to ensure that that the skills of paid carers across sectors are recognised, and workers are paid fairly and have access to stability and good working conditions;
put the voices and experiences of carers at the heart of decision-making at all levels; and
commit to collecting data and tracking progress on whether policies and spending decisions are effectively valuing and investing in all care and carers.
It's time to rethink the economy and shift radically how we view and support carers. It's time to really see them, invest in what they do and value care as work that really matters.
This is the third in a summer series of blogs related to labour rights that started on International Workers' Day. Subscribe to our newsletter to get the latest posts and follow us on Twitter and LinkedIn