The millions of paid and unpaid carers across the UK – including parents and guardians of children, social care and childcare workers, and unpaid carers for disabled, ill and elderly people – desperately need a new deal. Silvia Galandini, Anam Parvez (both Oxfam GB) and Nick Gadsby (The Answer) introduce a new toolkit that can help build public pressure for change, by constructing a fresh and compelling narrative about the value of all care.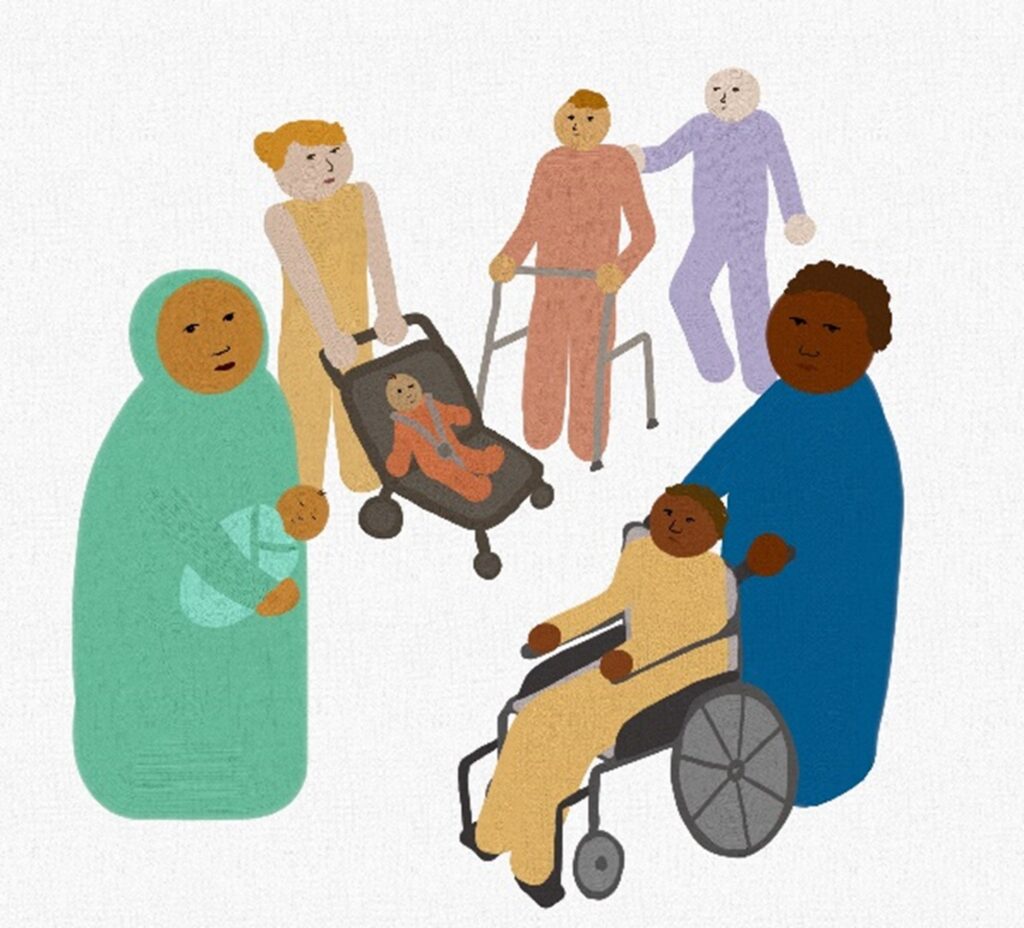 Across the UK, millions of people provide paid and unpaid care and support to children and disabled, ill or older people, yet this care is too often disregarded, and undervalued by governments and the wider society. This lack of recognition translates into inadequate support for unpaid carers and parents; low pay and poor working conditions for care workers; and over-stretched and under-funded childcare and adult care services.
As a consequence, carers are left experiencing deep financial hardship and poverty, as well as great physical and emotional stress. And women pay the highest price for this neglect of care, as they do most of the care work, particularly women most marginalised based on income, race and migrant status.
To change this, we need to tell a new story about care – one that builds public pressure for change by setting out just how vital care is to our social and economic life; that it is a collective good and responsibility that must be supported by governments and given adequate investment.
Change the story to help change the reality: our new toolkit
Narratives are stories shared across culture that help people make sense of the way things are. They do so by 'explaining' them in simple and familiar ways. These stories are also able to shape people's perceptions of reality. So new narratives and new ways of framing existing narratives, can help to change how people view an issue, and shape wider culture, deeply-rooted norms and values, and individual behaviours. That can not only generate public pressure for policy change, but also create the right environment for people to embrace any transformative policies.
HOW TO TALK ABOUT CARE IN THE UK
The new framing toolkit contributes to the journey towards communicating more effectively with the public about the vital importance of care and the urgent need to properly value it, with the aim to build public support for policy change focused on recognising, supporting, redistributing and rewarding care work.
The toolkit is based on research conducted as part of the Re-framing narratives on care in the UK project between June 2022 and January 2023.* The project's Advisory Steering Group included Carers Trust, Carers UK, Joseph Rowntree Foundation, the Trades Union Congress, Women Equality Network Wales and the Women's Budget Group.
A NEW STORY ON CARE
Through the Re-framing narratives on care project we developed a new narrative on care, and tested it against its ability to clearly communicate to the UK public about the urgent need to value all care, and start building support for policy change.
The messages developed through the research are outlined and explained in detail in the toolkit. The new story starts with an umbrella narrative, which brings together a premise and an evidence statement that can be used to reframe a wide range of care issues by showing how important all care is as a collective activity.
The premise clearly but concisely explains how each individual carer and type of care activity (whether paid or unpaid) contributes to a greater social and economic good:
Premise statement
Every day across the UK, the work of paid and unpaid carers helps hold society
together. It's the invisible network of support, empathy and care for the people who
need it most that supports our social and economic foundations.
The evidence statement shows the importance of highlighting the extent of all care – in terms of numbers and activities. It provides a flexible framework that can be adapted to any new data and analysis that become available:
Evidence statement
In the UK, more than 10 million people provide unpaid care and paid care. That's over one in five people. They help our children to grow and learn, support disabled people's independence, ensure our elderly relatives live fulfilling lives and keep our homes running.
The umbrella narrative then also includes three impact statements. Each one describes the negative consequences of not providing greater support for and investing more in carers from different perspectives: the overall health and care infrastructure, and the wellbeing of wider society; carers themselves; and those receiving care. Find out more about how to construct effective impact statements in the toolkit.
We tested the new narrative – and it makes a difference
Based on our research, the new narrative has proven impact in making care a more important policy issue for the public. 16% of respondents who were not exposed to the narrative saw care as a top-three priority for politicians. But for respondents who were exposed to the narrative, over 38% saw care as a top-three priority for politicians.
Overall, our research suggests that communication about care should:
Show people that all care is a social good that benefits society and therefore all of us as individuals.
Show that caring is not marginal to society, but something that millions of people do.
Explain the wide range of ways, both paid and unpaid, that carers support others.
Highlight the negative consequences of lack of investment and support for society, carers and recipients of care.
The toolkit aims to be a helpful tool for anyone advocating for better support and investment in carers. "We need to find ways of talking about care that will ensure it is properly valued, and that governments invest in the care we all need," says Mary-Ann Stephenson, Director of the Women's Budget Group and a member of the project's Advisory Steering Group. "This toolkit is a valuable resource to help us understand how best to have these conversations in a way that engages and convinces."
Rohati Chapman, Executive Director for Programmes, Policy and Impact at Carers Trust, and another member of the project's Advisory Steering Group, says: "We believe this care narratives research will play an essential part in the wider public discourse on care, carers and caring. Using a robust methodology, this research highlights crucial strategies for shaping narratives on care, which will prove invaluable for all organisations supporting carers when constructing a case for change."
A first step to changing the conversation
Of course, this research is only a first step towards reframing conversations on care, recognising the complex nature of care across the UK.
Shifting narratives and entrenched values and norms is a journey that requires time and persistence, but most of all collaborative work and alignment between care advocates across civil society and beyond.
Jessica Laimann, Policy and Public Affairs Manager at the Women's Equality Network Wales and a member of the project's Advisory Steering Group, says: "Carers in Wales and across Great Britain do amazing work every single day. We are excited about the launch of this research, because it will help us to move past 'doom and gloom' stories and highlight carers' amazing contributions to help create the change we all need to see."
Read the full toolkit: check out Oxfam's new "How to talk about care in the UK" toolkit.  Also do check out this blog by Duncan Green, which shares in more detail some top, evidence-based tips from the new toolkit.  
*The project was part of a research initiative undertaken across the UK, Kenya and Zimbabwe looking at views that different audiences hold on unpaid care, informal work and the economy and what narratives can help shift these towards greater valuing of care and informal work.