Last year's truce in Yemen opened a window for Oxfam to establish a water supply to thousands in a conflict-hit border area. In a blog for World Water Day, Fayad Al-Derwish says we now desperately need that truce renewed to change the lives of many more people living without basic services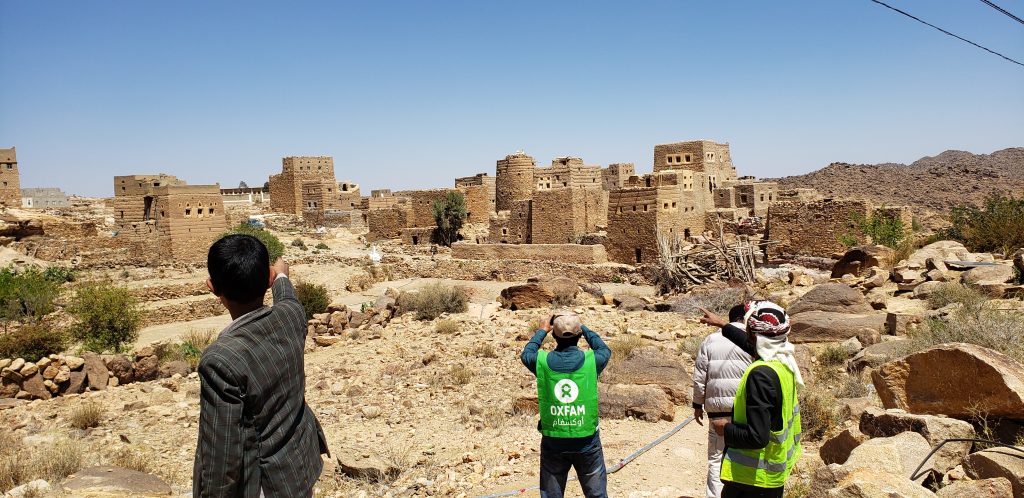 The northern Sa'adah governorate of Yemen that borders Saudi Arabia is one of the most water-scarce areas of the country and has suffered a long history of conflict, targeted by airstrikes and shelling that have damaged public infrastructure such as water systems. (In early 2022, Oxfam responded rapidly to repair a major water tank that had been hit by airstrikes – disrupting access to clean water for over 120,000 people in Sa'adah city.)
Sa'adah also hosts a large population of internally displaced persons (IDPs), with an estimated 107,954 displaced people (11% of the total population). The area has endured decades of underdevelopment and remains one of the most in need of infrastructure projects.
In this blog for World Water Day, I set out how the calming of the conflict in this area, which started with the truce that ran for much of last year, has enabled a big shift in the provision of clean water. Though the formal truce expired in October, there has been a clear reduction in the conflict in areas such as Sa'adah that has persisted this year – though of course the situation is fragile and unstable.
How last year's truce created an opportunity for change
Since the start of this year, Oxfam in Yemen has provided clean drinking water to more than 20,000 people by rehabilitating seven water supply systems in the most remote areas of the governorate, with funding from the German Foreign Ministry (GFFO). This would have been very difficult without the change in the conflict brought by the truce of April 2022. Access to these areas was challenging prior to the start of the truce as these areas, which border Saudi Arabia were still active conflict frontlines.
'My children can go to school not having to worry about the burden of fetching water from distant areas'

Resident of the village of Al-Qabdah in Majz district, Sa'adah
Much of the rural population in Sa'adah has depended on surface wells to fetch water, but most of these wells are open and unprotected. There have been many cases of women and children falling into the wells when they fetch water using ropes. Open wells also bring the risk of water-borne diseases, including cholera, which have been common across the governorate.
That means a clean water supply and water points can change lives. In the remote village of Al-Qabdah in the district of Majz in Sa'adah, Oxfam has established a water supply to people's homes. There, one of the villagers told us: "Now we can drink water without putting our lives at risk of falling into the well or being exposed to the risk of water pollution. My children can also go to school not having to worry about the burden of fetching water from distant areas." And the head of the local water project management, committee who has been trained by Oxfam to manage the water supply project, said: "We are very happy and grateful that access to water has become safe for our women and children, and no one will fall into the open wells again."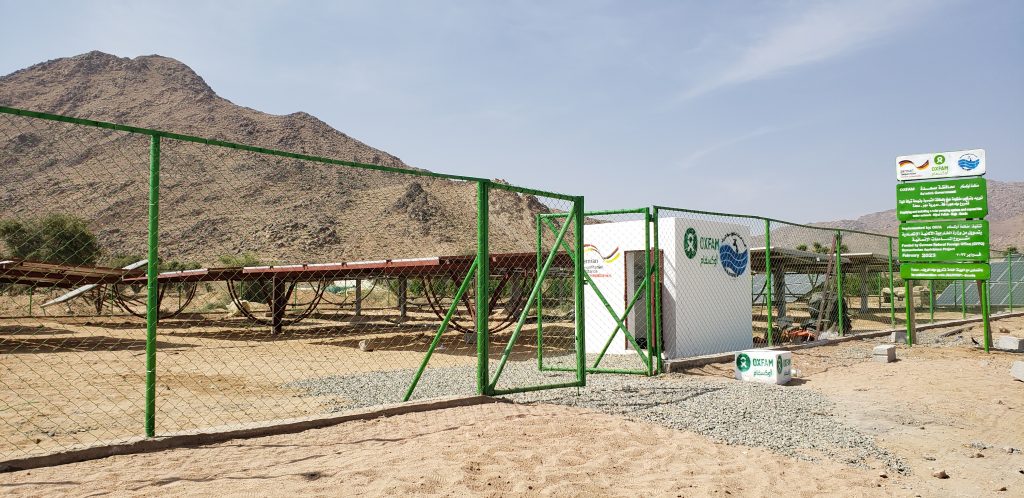 Solar pumping systems help displaced people
The project in Majz district funded by the GFFO has involved the rehabilitation of three wells and establishing solar pumping systems and a water network, as well as rehabilitation of the only rural hospital in Majz, in which more than 20,000 get medical care annually, most of whom have been displaced.
Residents of the remote district of Al-Hashwah now also enjoy safe water sources, after Oxfam implemented three solar-powered water projects there. Oxfam is one of the first international organisations to intervene in this severely undeveloped district, home to thousands of internally displaced people from border areas and the neighbouring Al Jawf governorate.
Alongside this, with funding from the Belgian government's development arm DGD, Oxfam has also been implementing a project to support livelihoods and protection in Majz district. In fact, our Water, Sanitation and Hygiene (WASH) team has targeted those supported by the DGD project in a "one-programme" approach.
In this area, Oxfam also carries out activities related to public health promotion, including community mobilisation, distributing public and personal hygiene kits, comprehensive hygiene campaigns, and ensuring women volunteers get the same support as the community's male volunteers.
Peace is crucial to build on this progress
Oxfam will continue its activities during 2023, supporting the most vulnerable districts in Sa'adah with the help of GFFO funding. Since the beginning of 2023, we have supported over 40,000 people to access safe and clean water, health promotion, and environmental sanitation services. But this is not enough. There are still hundreds of thousands of people in Sa'adah and millions across Yemen who continue to struggle to access safe water, sanitation and hygiene services.
Peace will bring the stability the community needs to allow improvements in water access to continue. That is why, alongside its work on water infrastructure, Oxfam will continue its advocacy for the humanitarian truce to be renewed, so we can continue to deliver aid to the districts where access was challenged prior to April 2022.
As one nurse in the Muflj health facility in Al-Hashwah – one of several health facilities Oxfam has recently rehabilitated – said: "We hope the success of Oxfam's humanitarian intervention in our region will inspire the rest of the international community, as well as donors, to follow your example and look at us and our displaced people with the eyes of humanity.
"We also hope that the truce in Yemen will not be destroyed because, before the truce, our region was forgotten."