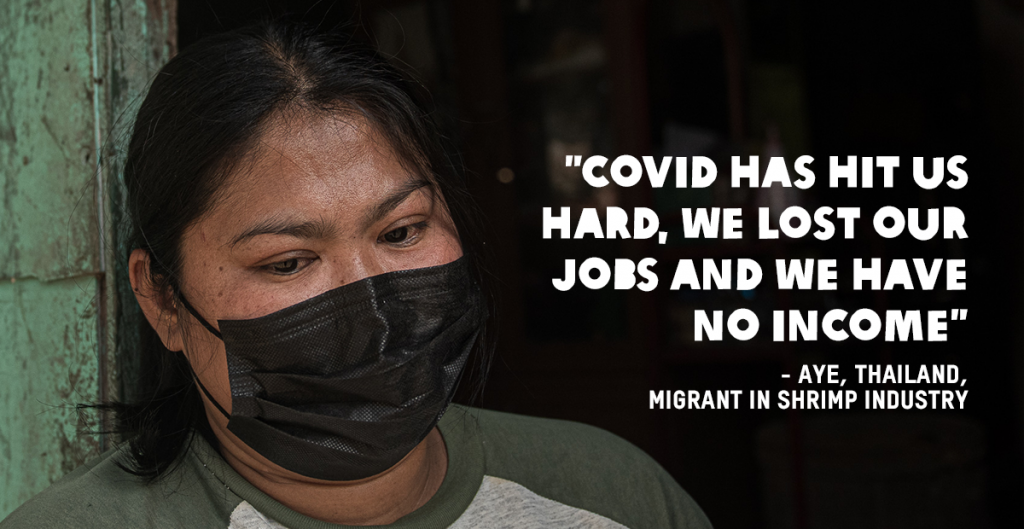 With nearly 85% of the adult population having received at least one vaccination, UK citizens can look forward to seeing loved ones, having a holiday and going back into the workplace. By contrast, in the countries Oxfam where conducted research in 2020 (Brazil, Thailand, India, Pakistan and South Africa), just 9% had received a Covid jab by late June 2021, leaving over 90% of their populations vulnerable to devastating outbreaks of the virus. This tale of vaccine winners and losers is the reason Oxfam has added our voice to the People's Vaccine campaign.
Early in the pandemic, world leaders repeatedly declared 'we're all in this together' but a new Oxfam report lays bare another tale of winners and losers, this time in global food supply chains: Not in this together: how global supermarkets became the pandemic winners while women workers are losing out.
This third report for Oxfam's Behind the Barcodes campaign presents an updated body of evidence that in-work poverty and violations of workers' rights are systemic problems here. Interviews with hundreds of people producing coffee in Brazil, seafood in Thailand, tea in India, rice in Pakistan and wine in South Africa showed Covid-19 has only intensified these issues. The virus has seeped into the fault lines of economic and gender inequality like rainwater through rock.
While frontline workers in stores and supply chains worked hard to keep our cupboards stocked, in the boardrooms it was business as usual, with bosses putting the interests of shareholders, owners and directors ahead of their supply chain workforce.
Supermarkets are amongst the standout winners from the pandemic
In the UK Tesco, Sainsbury's and Morrisons all increased their dividend payments while the owners of privately-owned Aldi and Lidl saw their wealth increase substantially during the pandemic. The eight listed companies on Oxfam's Supermarket Scorecard increased their dividend payouts from $10 billion to over $22 billion just in the first 8 months of the pandemic. Yet there is little evidence that supermarkets are investing in long-term supply chain improvements to prevent and mitigate violations of human and labour rights exacerbated by the pandemic. These are the hidden heroes of the crisis, labouring in fields and processing plants whilst their income has fallen and their urgent calls for workplace safety and hazard pay have been largely ignored.
The report tells the story of Felipe, who was rescued from slavery-like conditions on a coffee farm in Brazil during the pandemic. He and a co-worker had to harvest around 2.5 tonnes of coffee daily without receiving a salary. At best he would receive $36 for two weeks' work after his boss had deducted the rent, food and work equipment.
Worker testimony on wages confirmed existing benchmark studies showing the prevalence of poverty wages. Yet less than 1% of shareholder pay-outs in 2020 could close the gap between current wages and a living wage for workers in Brazil's largest coffee producing state, Minas Gerais.
Women workers have been the shock absorbers of the Covid crisis
Women have had it toughest earning an income, shouldering even greater care responsibilities whilst having the most precarious income. Thai seafood is a case in point. Most of the 588 workers interviewed reported being on a very low daily wage with no evidence that they receive the monthly minimum wage. Of these workers, 64% were women. When there was a serious Covid-19 outbreak at Christmas, workers had to stay in their homes but with no compensation for lost income. When Oxfam communicated this to supermarkets, none publicly reported systematic actions that mitigated workers' suffering. A civil society coalition in the sector is now calling for workers to get a monthly wage so they at least get the Thai legal minimum.
Contrast this with recent announcements of high executive bonuses at Morrisons, Sainsbury's and Tesco. These have drawn the ire of shareholders, though on the grounds of poor PR at a time of hardship, not out of concern for supply chain workers: their suffering doesn't get a look-in from these powerful stakeholders.
The campaign is clearly helping to amplify these issues within companies and resulting in some progress. Of the 6 supermarkets in the UK assessed by Oxfam for its third Supermarket Scorecard, Tesco, Sainsbury's, Morrisons and Lidl have all improved their scores since 2018 by more than 20%. Tesco strengthened its frontrunner position on workers' rights while Lidl made significant new commitments which Oxfam welcomed in the media in April 2020. Aldi has published new commitments in 2021 including targets to close living wage gaps in several supply chains and a commitment to publish a gender action plan.
This year our recommendations focus on the barriers to fair and equal treatment for women workers and farmers. Again, there are positive signs. Tesco, Sainsbury's, Morrisons, Lidl and Aldi have committed to undertake human rights impact assessments with a gender lens and signed up to the UN Global Compact's Women's Empowerment Principles. Tesco has published a gender policy setting out how it will tackle gender inequality in supply chains. Even more encouragingly, Dutch supermarket Jumbo and the Netherlands operations of German supermarket Lidl has in the last month published a cluster of new commitments, including identifying and taking action in supply chains where women are at greatest risk, ensuring women are properly represented and able to report grievances, and advocating for improvements in regulation.
So the campaign has definitely helped drive a 'race to the top' in supermarkets' policies and commitments. But the pandemic has posed a test of their effective implementation, and you would have to say that to date no supermarket has passed this test. Campaigning and advocacy will therefore continue in several countries until we see evidence of meaningful change. There is sufficient power in supermarket boardrooms at this critical moment to act.
About Author: Rachel Wilshaw is a Workers' Rights Senior Manager at Oxfam GB