Oxfam GB CEO Dhananjayan Sriskandarajah explains why it is vital that leaders find the bandwidth to prioritise the climate crisis, to ensure promises made in Glasgow don't 'wither on the vine' and to stave off even worse impacts of climate change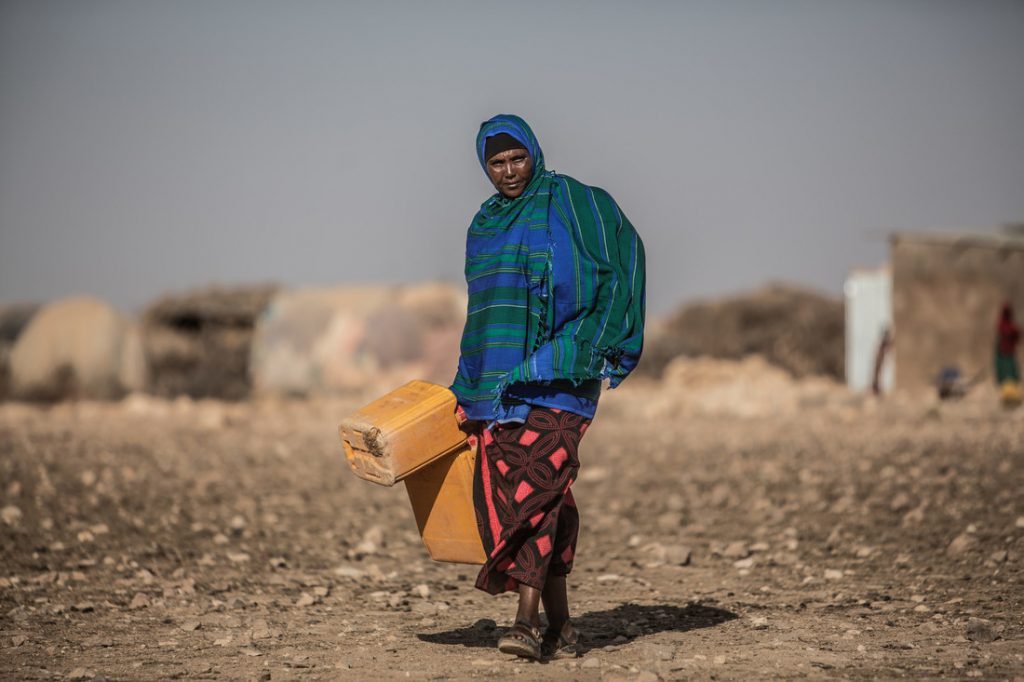 One hundred days since the ink dried on the Glasgow Climate Pact, the blue carpets were rolled up and the empty Irn Bru cans recycled, climate action risks falling off the political agenda.
It is vital that leaders find the bandwidth to prioritise the climate crisis alongside other major challenges, from Ukraine to the pandemic. The UK, in its continued role as COP26 president, has a particularly important role to play leading global diplomatic efforts to turn the Pact's commitments into reality.
In just nine months, the world must set ambitious climate goals
In less than nine months, countries will be asked to publish new targets setting out how they will cut carbon at the pace required to keep alive hopes of limiting global warming to 1.5 degrees. Without urgent action, promises made in Scotland "will wither on the vine," COP26 president Alok Sharma recently reminded us. To credibly urge other nations to greater ambition requires leading by example. Yet we haven't seen the Government leading an all-out blitz to insulate Britain's draughty homes, create cleaner towns and cities and speed up the shift to renewables.
New polling reinforces the huge public support for doing not delaying when it comes to climate action. The vast majority of people in the UK think the Government should factor climate change's impact on future generations into every decision it takes. Nearly two-thirds want the Government to pursue climate friendly policies even if it is more expensive in the short term, with young voters particularly in favour.
A dangerous gulf between promises and policies
Although the UK has one of the world's strongest carbon reduction pledges for 2030, it appears there is a dangerous gulf between promises and the policies to deliver them. Government advisors The Climate Change Committee warned last June that the UK is lagging behind on its goal of 78 per cent cuts to greenhouse gases by 2035. New coal mines planned in Cumbria and the Neath Valley in Wales, coupled with refusals to end new oil and gas licences in the North Sea, are out of step with the International Energy Agency's warning against any new investments in oil, gas and coal.
Meanwhile, experts are clear that the rise in UK energy bills due to soaring wholesale costs could have been cushioned if the Government hadn't cut support for renewables and energy efficiency measures like insulation back in 2013.
Millions of lives are being devastated and we need to act now
Around the world, climate change is turbo-charging extreme weather and causing hardship. More than 21 million people across Somalia (see picture above), Kenya, Ethiopia and South Sudan are currently facing severe food insecurity as the Horn of Africa contends with the driest conditions in 40 years, and South Sudan experiences severe flooding. Coming on top of conflict and locust swarms, extreme weather has devastated harvests and rangelands and triggered a dramatic inflation of food prices. Just before Christmas, Super Typhoon Rai barrelled through the Philippines damaging 1.5 million homes and threatening to further set back its economic progress.
It is not quite too late to change course and stave off even worse impacts. But major changes in each year up to 2030 will be critical. The UK Government's sustained global leadership this year is vital to create conditions that rapidly end the era of fossil fuels, and generate new funding for poorer countries and communities hit by climate impacts, for example land that's already become uninhabitable and roads and buildings that have been destroyed.
The UK managed to get ambitious agreements over the line at COP26. Now, the Government must make action on climate change an absolute priority, to deliver the safer, cleaner future that people in the UK and around the world are demanding.
Want more on climate? Dhananjayan Sriskandarajah sets out the three things we need for climate justice here and Oxfam climate advisor Lyndsay Walsh explains an issue that will be high on the agenda at COP27: What is loss and damage – and why is it so vital for climate justice?

Meanwhile, this week Oxfam GB launched a campaign asking people in the UK to email or call their member of parliament to demand urgent climate action.