In March, the country very nearly passed legislation to ban same-sex marriage and LGBTQIA+-inclusive sex education in schools – as well as increasing criminal penalties for abortion. In our latest blog for Pride month, Natalia Marsicovetere highlights the urgent need to build on the coalition for justice that stopped it (Spanish version of blog here)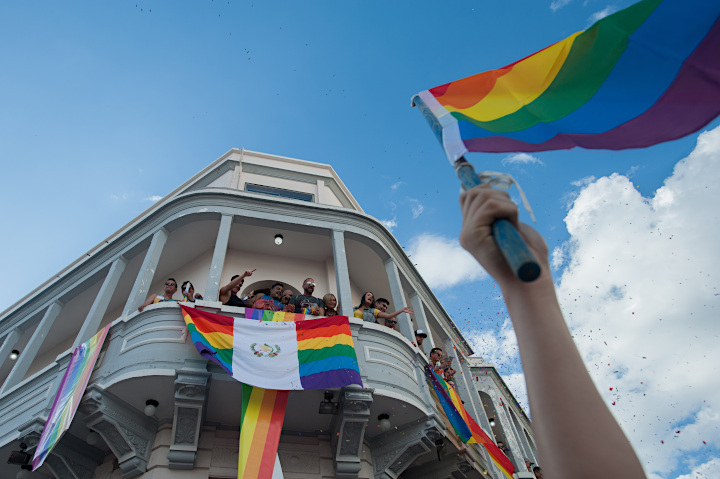 Attempts to legislate against the rights of LGBTQIA+ people and women in Guatemala go back decades, including attempts to prohibit same-sex marriage in 2007. However, this year brought one of the biggest attempts to deprive LGBTQIA+ people of their rights the country has seen.
That came in the form of Law Initiative 5272, that:
prohibited same-sex marriage (We use the common English phrase "same-sex marriage" here but prefer the Spanish matrimonio igualitario, or egalitarian marriage, which is more inclusive of different gender identities);
banned schools from teaching about sexual diversity and gender equality;
allowed people to discriminate against LGBTQIA+ people by making it illegal to prosecute them;
criminalised anyone who promotes or facilitates access to abortion; and
declared sexual diversity as deviant behaviour that goes against human nature.
On International Women's Day, March 8, the initiative was approved by Congress and named Law 18-2022. March 9 was also declared the National Day of Life and Family and the State declared itself "pro-life".
Protests and condemnation
The passing of the law sparked national and international condemnation from human rights groups. Erika Guevara-Rosas, Americas director for Amnesty International said in March: "This law will not protect families or lives; it will foment hate and discrimination, putting the lives and rights of countless people at risk. It is disturbing that Guatemala's Congress is intent on wasting time and resources on passing laws that will only compound the myriad of social problems and human rights violations that afflict so many people in the country, instead of actually trying to resolve them."
Two days after Congress approval, amid protests led by women's rights and LGBTQIA+ rights groups, including young students, Indigenous groups and trans activists – as well international pressure from groups such as Amnesty and actors like the Interamerican Court of Human Rights – President Alejandro Giammattei vetoed 5272 and Congress agreed to archive it, so it did not pass into Guatemelan law.
A warning for the future
Although ultimately the law was overturned, the fact it was so close to being passed should concern all of us who campaign for justice for LGBTQIA+ people. It highlights the prejudice and bigotry running through power structures, the state and belief systems that led to this law getting this far. It also seems as if more threats to LGBTQIA+ rights loom on the horizon. Laws currently being discussed in Congress, include Law Initiative 5940, which seeks to "protect children and adolescents from gender identity disorders", targeting trans youth and their families
Context of marginalisation and discrimination
All of this is against a backdrop of multidimensional difficulties for marginalised populations such as LGBTQIA+ people in Guatemala. LGBTQIA+ people face discrimination and violence for their gender identity and sexual orientation that is often intersectionally combined with other social and economic inequality. Those most affected by these inequalities are usually Black, Indigenous and People of Colour, as well as trans people. Access to education and work opportunities are slim due to discrimination, lack of resources and general exclusion. They are often the ones that are most vulnerable to threats caused by insecurity. Such difficulties mean this population is prone to forced displacement or migration.
In Guatemala, LGBTQIA+ people have no protection under state laws. There is not currently any discrimination legislation regarding gender identity, marriage equality, health policies or any protocols to prevent or respond to hate crimes. There are no job or education inclusion policies for diversity. Furthermore, there are lobbying conservative groups and organizations that block these necessary protections and, as we have seen with 5272, actively promote laws against them
Even among those politicians who are not actively hostile to LGBTQIA+ rights, there is a lack of political will to support LGBTQIA+ groups. That leaves a huge challenge to close the gap for the rights of LGBTQIA+ people in Guatemala.
The campaign that successfully blocked the passage of 5272 should spur wider intersectional activism, education and lobbying by a national and international coalition for justice to stand behind LGBTQIA+ people in Guatemala. We need to call on public officials, politicians and lawmakers to understand the complexities of this context and work urgently in favour of human rights for all.
This is the fifth in a summer series of blogs about LGBTQIA+ rights around the world that started off in Pride month. All the blogs will be published on Oxfam's Views and Voices site aimed at development professionals. Subscribe here to keep up with the latest posts and also follow us on Twitter and LinkedIn