During big holidays such as Christmas, social media buzzes with people struggling to cope without domestic workers. Clearly, the workers are part of our economy and economic infrastructure, making a huge hidden contribution to households and the economy. Yet illegal exploitation of these vital women workers continues – and it's urgent our government steps in to stop it. In the last of a summer series on valuing women's work, Blandina Bobson looks at the realities of domestic work in Kenya.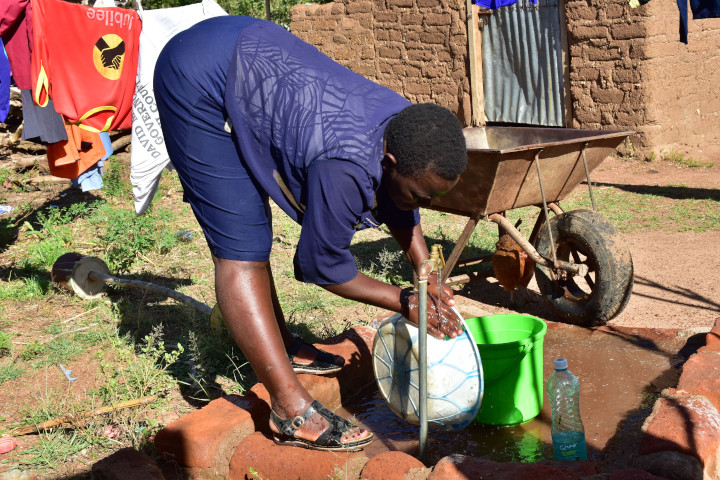 There's an unwritten rule in most Kenyan families: Christmas and Easter holidays must be spent with family in your village, irrespective of your class or social status – and crucially this includes domestic workers.
Paid domestic work in Kenya is known for its precariousness; the long and arduous working hours; the poor wages; the lack of contracts; the abuse and mistreatment from employers; and the non-existent off days and leave days. The unspoken holiday 'rule' allows domestic workers, who are mostly women, a few precious days' respite with their families.
'Social media is awash with lamentations of how tedious care work is and amazement at how their domestic workers do it every day'
The holiday rule is however the trigger for holiday misery for domestic workers' employers, especially the women (as in this traditional society it is women and girls who are still expected to oversee and take care of all the unpaid care and domestic work). Social media is awash with lamentations of how tedious care work is and amazement at how their domestic workers do it every day. In some homes, noodles become a constant meal as mothers can't fathom how they are expected to scour and scrub the house, while still cooking 'proper' meals.
It's even worse for women in paid employment themselves, as they now struggle with both domestic and paid work tasks – known in some spaces as the 'women's burden of the double shift'. Nail spas make a killing at this time, but their staffs have to listen to endless complaints about the laundry and how washing dishes has chipped expensive manicures.
A moment of visibility – but then the cycle of exploitation starts again
Towards the end of the holidays, employers are gripped with anxiety as this is usually the moment of truth on whether the domestic worker is coming back or not. This is also the only time the lack of contracts works in favour of domestic workers, as they owe no one an explanation or notice of whether they are coming back. This is the time that phone operators' automatic replies to switched-off phones "Samahani, mteja wa nambari uliopiga hapatikani kwa sasa" ("Sorry the mobile subscriber cannot be reached") hits an all-time high. And just like that, the domestic workers move to other ventures that are better paying even if by a mere thousand shillings ($7) and the cycle of women searching for new domestic workers begin.
'The provision of sanitary towels, lotions, toothpaste and other basic necessities is reflected in workers' salaries in the form of deductions'
But this anxiety over recruitment does not last long – and does not bring any benefit to the workers. In fact, the precariousness of the work and ready supply of labour makes finding replacements an easy task. All that one needs to do is reach out to family or friends – with some employers also setting discriminatory specifications that include ethnicities, age and marital status. For tech-savvy employers, all it takes is a few clicks on a couple of social media pages and they secure a new domestic worker.
A ready supply of labour to employers who should do better
This is a job that is considered a job for the uneducated, poor, those cannot pursue further education, those who failed their exams, or who are unemployed. The work itself is considered unskilled despite the diverse nature of the tasks that have to be managed. In a country such as Kenya, where illiteracy levels and unemployment are high amongst women, that means a supply of workers is always available. Within a day vulnerable women and girls can be shipped from villages to towns to embark on this undignified journey.
They will be going to a job where your wage is cut based on "privileges" you are perceived to be getting by simply living in your employers' house and eating their food: the more they take care of you, the lower your wage is. The provision of sanitary towels, lotions, toothpaste and other basic necessities is reflected in salaries in the form of deductions. Sleeping space is typically a mattress or sofa in a living room or sharing a child's bedroom. Falling sick is a risk a domestic worker cannot afford because hospital visits in the city means you might end up without a wage at all.
The number of children in the house also defines how much you earn. The larger the number of children the more the salary. And even then, it still will not meet the minimum wage as defined by the Employment Act (a minimum wage of Kshs. 15,201, or around $105, per month whilst those in other areas are entitled to a minimum wage of Kshs. 8,110, or around $56, per month).
The annual hustle to recruit is a blip, with this visibility of domestic workers fleeting and seasonal. It is surprising that employers are not concerned about the impact turnover of domestic workers has on the developmental milestones of their children and stability of their homes. They also don't seem to recognise how this work is foundational for their economic success and the wellbeing of their society. They continue to tap into this exploitative trade until their children are grown, ignoring their own contribution to an endless cycle built on the vulnerability of the workers: trade in domestic work often passes from mother to daughter to granddaughter – because none of them earned a good enough wage to break the cycle and provide better opportunities to their dependants.
How can we change domestic workers' lives in Kenya?
The responsibility to change this, to make domestic workers visible every day and give them decent pay, benefits and conditions, rests with both employers and the government.
To that end, domestic workers campaigners such as Eunice Kingoo (pictured above) are calling for:
The government to enforce the employment act and ratify the International Labour Organisation's Convention 189 that guarantees decent work for domestic workers.
Employers to pay decent wages as stipulated by the existing laws and recognise the value of this work to their families.
These actions will not only help lift many women out of poverty but also contribute to changing the perception that this type of work is for the vulnerable and those who have nothing better to do: our society instead needs to value these women and make this job a stepping stone to longer-term, decent careers. Ultimately, change will depend on domestic workers themselves being able to organise, build their agency and join with others in demanding justice in domestic and care work.
We all have a role to play: let's raise our voices to demand fair pay for domestic workers, and that they should get the basic labour rights in the Kenyan constitution such as the right to join a union, as well as the right to social security. Let's demand the policies that will support carers, backed by real investment in the care sector by government and private sector. And let's start by shifting the narrative around domestic and care work and value it as the glue that holds our economies and societies together.
This is the last our summer series of blogs on labour rights and valuing women's work that started on International Workers's Day. Read the full series here.